10 Ways to Improve Brain Power
Senior Care in Braselton GA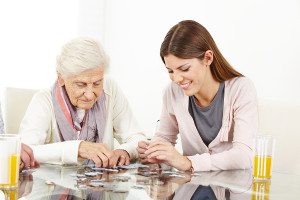 Developing brain power is a vital part of elderly care. Most in-home care consultants will tell you when it comes to the brain, you use it or lose it. Below are 10 ways to improve the brain power of your elderly loved ones:
1.    Fun, brain stimulating games
Slowly introduce your parent to fun games that requires one to think and evaluate to find solutions. Playing cards is one such game that is very sociable as it requires multiple players. Not only will they enjoy the game but also have fun with other players. You can also choose from different puzzles.
2.    Focus on nutrition
Ensure proper food full of antioxidants that will help the brain function at its best. Fresh vegetable and fruits are essential to ensure the brain gets the correct nutrition that it needs.
3.    Encourage daily exercise
Physical activities produce aerobic benefits to the brain. Daily walks with a family member around the block are good enough for a day. Exercise should not be too strenuous. For parents who have difficulty walking, simple in-house exercises such as standing can be done. To make the exercise beneficial, switch between standing on the left and right leg for a set amount of time. Exercise will also boost heart, lung and physical function.
4.    Involve the grandchild
Involve grandchildren in daily activities such as playing games.  Grandparents often feel a sense of accomplishment after spending time with their grandchildren. This greatly adds to the benefit of playing games.
5.    Get your smoking parent to stop
This will not be an easy task, expect lots of resistance at first. Smoking negatively affects the brain and other body organs, taking away the benefits acquired from all the other activities.
6.    Encourage your parent to start a diary
Suggest the use of a daily diary to record special moments and accomplishments. A daily diary will help your parent appreciate how far they have come as they take note of their achievements. You should also suggest including things that they would like to do tomorrow. This gives them something to look forward to every day.
7.    Keep them laughing
Laughter is the best medicine. You can always depend on great films or books to have a good laugh every day. For parents who don't have frequent company or seem isolated, turn to books or Netflix for some bone cracking humor.
8.    Have some friends or relatives visit
Make a schedule with family or friends to visit.  This would be a good time to play games, go for a walk, or catch up on current events.
9.    Schedule some time to go out together
Plan weekly time just for the two of you to go to eat or visit a local park.
10.    Recognize all accomplishments and gains
Be sure to recognize your elderly loved one for incorporating some of these activities into their daily routine.  Change can be hard, especially for the elderly, so it's important to provide encouragement during this time.
These simple exercises can be incorporated into daily/weekly senior care schedule. Even for as little as 30 minutes every day these activities can result in significant benefits over time.
The staff at Home Care Matters is available to talk with you and your family about all of your needs. Home Care Matters is a home care agency providing quality and affordable senior care services in Braselton, GA and the surrounding areas. Call (678) 828-2195 for more information.
Latest posts by superadmin
(see all)