3 Reasons Your Father's Hearing is Affecting His Health, and When to Talk about Home Care
Home Care in Johns Creek GA
It may be difficult to determine what type of impact hearing loss could be having for your aging father. He may have seen his doctor and been fitted with a hearing aid, but that doesn't mean he is still able to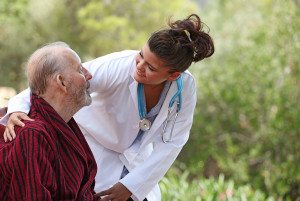 hear everything that goes on around him. If you noticed your father's health is not what you would expect it would be, it may be related to hearing loss, an ineffective hearing aid, or other problems directly related to his hearing challenges.
Here are three reasons why hearing loss could be affecting your father's health and why talking to him about professional home care services is a great option.
He's unable to understand instructions. If your father has been given various instructions from his doctor about what to eat, what type of exercises he should do, or anything else, and if he can't hear as well as he used to and doesn't ask questions for clarification, he could be missing out on some valuable facts that can make it significant difference for his overall health.
It's easy for somebody with some type of hearing loss to nod and make others believe they heard clearly, especially if they don't want to hear what somebody else says, but that could have a significant impact on their health when it comes to doctor's instructions.
Not knowing when somebody might stop by to help. If your father has a tendency to try to do things himself without asking for assistance, or feels bad about asking for help, a family member, friend, or neighbor could tell him when they might be stopping by, and if he can't hear them clearly, he might not wait to do something until they arrive.
While this might not affect his health directly, it could certainly impact his safety, which will ultimately affect his health if he becomes injured doing something he could've had assistance with.
Taking the wrong prescription medications at the wrong time. Most prescription medications will have plenty of information with them, including dosages, times a day they should be taken, whether they should be taken with food or on an empty stomach, what other medications they should avoid taking with them, and much more. However, if the pharmacist or doctor also says this information and your father can't hear, it could be a safety issue that can directly affect his health.
Relying on an experienced home care provider could allow your father to work with somebody who has knowledge, patience, and foresight to take hearing loss and other hearing challenges into consideration.
The staff at Home Care Matters is available to talk with you and your family about all of your home care needs. Home Care Matters is a home care agency providing quality and affordable services in Johns Creek, GA and the surrounding areas. Call (678) 828-2195 for more information.
Latest posts by superadmin
(see all)