4 Qualities the Ideal Caregiver Possesses in Gainesville, GA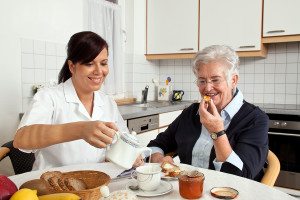 Looking for the ideal caregiver for a loved one is going to be an important process. You want to not only ensure that the person who will be coming to your loved one's home is trustworthy and honest, you also want them to be experience. For elderly patients who require some type of in home care provider, it means that they are either recovering from an illness, injury, or other ailment, or that they are no longer able to tend to their basic care needs in a healthy and safe manner.
Below are four qualities that you should look for in your elderly loved one's future caregiver. There are several other qualities that you should also consider, but these are the main ones that will establish whether the professional working relationship is a successful one.
Compassionate
While you could likely find a few in home care providers who would be good at their job even though they didn't have a real passion for it, or didn't truly care about it, that's the exception to the rule.
If you find an in home care provider who does not have compassion for patients, then this could lead to potential problems in the future, especially if there is tension at some point between the caregiver and the patient.
Experienced
There are plenty of wonderful caregivers who have to start somewhere, basically without experience. However, when you want the best for your loved one, request that the in home care provider that the agency places with your loved one is experienced.
Honesty
The in home care provider is going to be coming to your elderly loved one's home and spending time with them there. That means you should be able to trust him or her. How do you determine if a person is honest and trustworthy? Usually their work history and background can tell a lot about their integrity.
Committed
No, we're not referring to be committed into a mental institution, we're referring to having a caregiver who is committed to providing the best level of care possible for their patients.
It's easy to find people who will be eager and anxious to work for the elderly, but to find those who are going to be committed to providing the highest level of home care throughout the duration of time that is required, which could be months or even years, is not always as easy.
When you are seeking out the right caregiver for your elderly loved one, consider focusing on these 4 qualities and you'll end up with the best caregiver possible.
The caregivers at Home Care Matters are available to talk with you and your family about all of your elder care needs. Home Care Matters is a home care agency providing quality and affordable caregivers in Gainesville, GA and the surrounding areas. Call (678) 828-2195 for more information.
Latest posts by superadmin
(see all)