4 Tips for Dealing with a Loved One's Incontinence
Elder Care in Buford GA
When your loved one is dealing with incontinence, it's a difficult situation for you and for her. Besides being embarrassing, the situation is uncomfortable physically and emotionally. Here are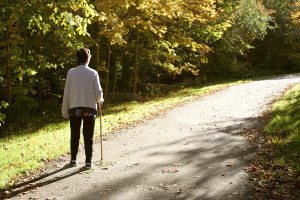 some things that you can do to make the situation easier on both of you.
Try to Take Emotions Out of the Equation
It's really easy to become frustrated with your loved one or to be embarrassed about the situation. But none of that helps either your loved one or you. It's an extremely embarrassing situation for your loved one, too, and she can't help the situation. So the best move for both of you is to step away from the emotional impact of incontinence. Look at the situation as a practical matter that simply needs to be handled, because that's exactly what it is.
Make Sure Your Loved One Knows Where the Bathroom Is
In some types of incontinence, your loved one can still forestall an accident if she knows where the bathroom is in time. Whenever you're in a new location, scout out the restroom situation and make sure your loved one is aware of the bathroom locations. If you're in a home, make sure that there's easy access to the bathroom and to the toilet and that the door isn't closed.
Make Sure the Bathroom Is Safe to Use
If your loved one can get to the bathroom but it's too difficult or even unsafe to use, this can result in an accident when there didn't need to be one. Make sure that the bathroom has handrails or that your loved one has help if she needs it while she's using the restroom. If you're not able to be with her, let her elder care providers know that your loved one may need assistance in the bathroom from time to time.
Make Sure Her Clothes Aren't an Obstacle
We've all had a situation where a buckle or a zipper kept us occupied longer than we'd like before a bathroom visit and the same can happen to your elderly loved one. If clothes are posing more and more of a problem, start looking for clothing that can be unfastened quickly. Your loved one will likely feel more confident knowing that there are fewer obstacles between her and a successful bathroom trip.
Dealing with incontinence in a respectful and safe manner helps your loved one to maintain her dignity.
The staff at Home Care Matters is available to talk with you and your family about all of your needs. Home Care Matters is a home care agency providing quality and affordable elder care in Buford, GA and the surrounding areas. Call (678) 828-2195 for more information.
Latest posts by superadmin
(see all)