Being a Caregiver is Like Riding a Bicycle in Braselton, GA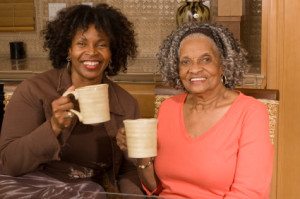 Melissa had been a caregiver for her grandmother many years ago. This was when she was still going to college. During that time, she had made a great connection with her grandmother, something that she would always cherish.
She also learned a lot of skills that are vital to proper care for elderly patient.
Melissa is now in her 50s and she has realized that her mother is having trouble living alone at home. At first, she was reluctant to take on the role of a caregiver again because it had been so long since she had done that that she thought she had long forgotten the most important skills of this job.
Her mother didn't want to hire a stranger to come into her home, so Melissa agreed to take on this responsibility. She was older, wiser, had raised three children, and had some time to devote to her mother. It made sense.
Still, she couldn't shake the notion that all of those skills and experiences that she had more than 30 years ago would remain like ghosts from her past.
The first day that she visited her mother to be her official "caregiver," she felt something familiar stirring within her. She began to fall into a routine that she had developed when she was working with her grandmother. She realized within a few days that being a caregiver was a lot like riding a bicycle.
Once you know how to ride, you never forget. A person could have ridden a bicycle when they were young, such as eight or nine-years-old, or even up to their teens, and then never sat on one again until they were in their 60s and still remember how to ride.
The same is true when you are providing home care for someone. Whether it is for an aging loved one or as part of your job that you are starting, once you have been a caregiver, the skills and routines that you developed during that period of time will return to you relatively quickly.
Not everyone takes on the role of a caregiver for their aging loved ones. If you don't feel comfortable with this responsibility, or you don't believe that you are going to have the time to devote to it properly, then encourage them to consider hiring a professional. Just because the skills and experiences will come back to you, that doesn't mean that you're going to be the best caregiver for them at this time.
The caregivers at Home Care Matters are available to talk with you and your family about all of your elder care needs. Home Care Matters is a home care agency providing quality and affordable caregivers in Braselton, GA and the surrounding areas. Call (678) 828-2195 for more information.
Latest posts by superadmin
(see all)