Keeping Your Parent Healthy and Satisfied while Managing Celiac Disease
Caregiver in Cumming GA
Just a glance at the traditional food guide pyramid popularized generations ago will tell you that the average American diet has a strong emphasis on grain products such as bread, cereal, and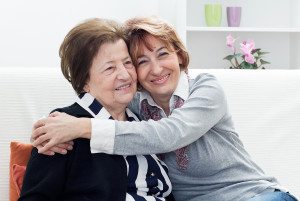 baked goods. While whole grains are an important part of a healthy diet, for those with Celiac disease, they can be a source of major issues. This autoimmune disorder impacts approximately 1 in 100 people, and experts estimate that more than 2 million people in the United States alone have the disease but have not been diagnosed, putting them at serious risk of lingering health complications.
Grains including barley, wheat, and rye contain a protein called gluten. This is what gives baked goods their texture and is sometimes isolated for use as a meat alternative. While it is perfectly safe for most people to consume, for those who have Celiac disease, it is not. This protein creates an immune response within the small intestine, causing the body to attack the villi along the lining. This damages the villi, causing the body to not be able to absorb nutrients properly. This can lead to serious discomfort as well as far increased risk of long-term health damage, including increased risk for MS, intestinal cancer, anemia, and osteoporosis.
A gluten-free diet is essential for people living with Celiac disease. This cuts out a large number of foods that many people are accustomed to eating every day. This does not mean, however, that your parent cannot continue to enjoy a satisfying and delicious diet. Many alternatives are available on the market these days, but you can also help your parent enjoy a more varied diet by simply changing your cooking techniques. For example, this recipe for a food known as "cloud bread" uses cheese and baking powder to simulate the texture and flavor of flatbread without any gluten. Try it with sandwiches or as a crust for a personal pizza.
What You Will Need
3 eggs
1 tablespoon of honey
3 tablespoons of plain cream cheese
1/4 of a teaspoon of baking powder
A pinch of rosemary
Two small bowls
An electric beater
A spatula
A baking sheet
Spray cooking oil
What to Do
Warm the cream cheese to room temperature
Preheat the oven to 300 degrees F
In one bowl add the egg yolks, while in the other place the egg whites
In the egg with the yolks, add the cream cheese, once it has reached room temperature
Add the honey into the bowl with the yolks
Mix the honey, cream cheese and yolks together until it is smooth
In the bowl with the egg whites, add the baking powder
Using the electric beater on high speed, mix the egg whites with the baking powder until the mix is fluffy and resembles whipped cream
Using a spatula, carefully fold the yolk into the whipped mixture
Gently mix the two mixes together, making sure there is no yellow streaks, until they are fully combined
Grease a baking sheet with the spray cooking oil
Spoon the mix in rounds onto the baking sheet, so that there are between 6 and 8 of them
If using the rosemary, add some to the top of each round
Place the rounds into the oven to cook
Allow to cook for around 15 minutes, at which point they should be golden brown
Remove from the oven and allow to cool for just a minute
Serve warm or at room temperature
The staff at Home Care Matters is available to talk with you and your family about all of your needs. Home Care Matters is a home care agency providing quality and affordable 

caregiver services in Cumming, GA

and the surrounding areas. Call (678) 828-2195 for more information.
https://celiac.org/celiac-disease/what-is-celiac-disease/
Latest posts by superadmin
(see all)