Could Your Elderly Parent have Dysphagia?
Caregiver in Gainesville GA
Dysphagia is a condition that makes it very difficult for older adults to swallow foods or liquids. It could cause them to suffer from malnutrition, aspiration pneumonia, or dehydration. Watching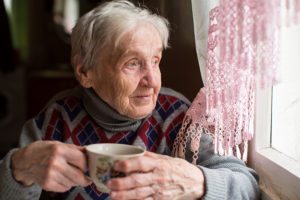 someone with Dysphagia eat a meal can be a scary experience. Someone with this condition will need to constantly be monitored by caregivers in order to make sure they are healthy. If you are wondering if this is a condition your loved one has, here is some information that will help you find out.
Symptoms
Having problems swallowing every once in a while may not be the result of Dysphagia. However, if they have more than one of the following symptoms, it is time to talk to their doctor.
Problems swallowing food or drinks
Choking on liquids, medication, or food
Coughing while drinking or eating
Voice makes gurgling sound, especially after eating or drinking
Drooling
If you are not able to observe your loved one while they eat, you can ask them or their caregiver the following questions to find out if they could have Dysphagia.
Does the elder complain about food going down their throat the "wrong way"?
Do they choke or cough after eating or drinking?
Does it feel like food is constantly getting stuck in their throat?
How long does it take for the elder to eat a meal?
Do they find less joy in eating their favorite foods?
Has the elder recently lost weight without trying?
Causes
If some your loved one is going through some of the previous symptoms, there are a number of reasons they could have developed Dysphagia. Some possible causes include:
Having acid reflux disease or GERD
Not taking care of their teeth or having dentures that do not fit properly
Stroke
Dementia, Alzheimer's disease, or other cognitive disorders
Cancer of the throat, mouth, or esophagus
Weakening of the throat or mouth muscles, which typically occurs with age
Certain medications
It can be extremely scary watching a loved one go through this condition. If you are concerned that your parent has developed Dysphagia, the best thing you can do for them is talking to their doctor immediately. You and the senior will then be able to discuss possible reasons for your loved one's symptoms, as well as treatment options. Do not wait too long to inform the doctor of the elder's condition. The longer you wait, the worse their symptoms may become. Hopefully this information will give you an idea of whether or not your loved one has Dysphagia.
The staff at Home Care Matters is available to talk with you and your family about all of your needs. Home Care Matters is a home care agency providing quality and affordable caregiver services in Gainesville, GA and the surrounding areas. Call (678) 828-2195 for more information.
Latest posts by superadmin
(see all)