Talking to Your Children about Alzheimer's Disease
Caregiver in Lawrenceville GA
When your elderly loved one receives a diagnosis with Alzheimer's disease, it can seem like your entire world changes. Suddenly you are facing the knowledge that your parent is coping with a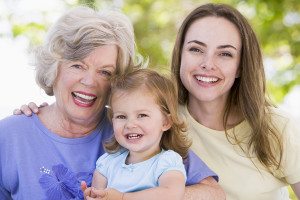 progressive disease that will impact his memory, cognitive functioning, and physical health. You must rethink all of the plans that you have for your parent's care and everything that you have thought of for his future. What you must not forget when you are going through this period of adjustment is that you are not the only one impacted by the diagnosis. Your children will also experience the changes that come with being on a journey with a loved one with Alzheimer's disease.
When it comes to your parent's diagnosis, your children will likely be impacted more than you might expect. If they are accustomed to spending a considerable amount of time with your parent, they will notice the major changes that will come during the progression of the disease. If they are not accustomed to spending much time with them, or are very young and may not recognize the changes in their grandparent, they will notice the increased time you must dedicate to your parent. Either way, this diagnosis is going to be something that affects their lives as much as it does yours, but in their own ways. This means that you need to take the time to talk to them about the condition and what it means for your parent.
Having a conversation with your children about Alzheimer's disease can be challenging. It can, however, ease their concern and help them to understand what is happening. This lets them react in the ways that are right for them. Use these tips to have effective conversations with your children after your parent receives a diagnosis with Alzheimer's disease:
Keep your conversations short. Remember that children, especially young children, do not have long attention spans. This means that they might have difficulty staying focused if you try to explain everything at the same time. Break up your conversation into smaller sections and discuss one topic at a time, or build off of the previous conversation. If they seem distracted or impatient, end the conversation. You want your children to be able to absorb what you are telling them and not get frustrated.
Encourage questions. Open the lines of communication so that your children know that they are allowed to ask whatever questions they may have. Take the time to answer these questions carefully and thoroughly according to their age and maturity. These questions are the way that they are exploring the concept and trying to understand it.
Reassure them. Make sure that your child understands that Alzheimer's disease is not something that is contagious. Many children immediately think that they can catch any "illness". Reassure them that this is not the case so that they will not fear spending time with your parent.
Welcome their help. Empower your child by welcoming their help in the care of your parent. This will encourage them to continue spending time with your parent, and give them more time with you. Even simple activities like crafts, reading together, or going on a walk can be extremely meaningful and beneficial.
The staff at Home Care Matters is available to talk with you and your family about all of your needs. Home Care Matters is a home care agency providing quality and affordable 
caregiver services in Lawrenceville, GA

and the surrounding areas. Call (678) 828-2195 for more information.
Latest posts by superadmin
(see all)