4 Tips to Help Your Elderly Loved One Stay Healthy
Caregiver in Oakwood GA
As a family caregiver, you might start out simply helping your elderly loved one to keep living the life that she enjoys. While there are complex ways to attempt this, it's better all the way around to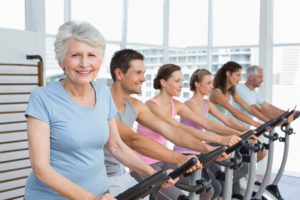 stick with some simple techniques.
Help Her Eat Right
Having a healthy diet can help to combat a lot of different health problems all in one fell swoop. Make sure that you check with your loved one's doctor for any specific dietary changes that you need to account for. Most elderly loved ones need to bump up their intake of fruits and vegetables while cutting out snack foods that only offer up empty calories. Try to make changes gradually to help keep your elderly loved one on board with the overall plan.
Help Her to Avoid Stress
Stress isn't fun for anyone to be dealing with, but it's especially irritating for your elderly loved one. Do what you can to help reduce her stress levels. You may need to sit down with her and figure out what her stress triggers are for the most part so that you can help her to avoid them. If she's worried about her current and future health, for example, keep her involved in mapping out a plan that helps to keep her healthy. If there are things that you can take over for her that reduce her stress levels, discuss those types of things, too.
Help Her to Keep Moving
Exercise is a great way for anyone, but especially your elderly loved one, to get and to stay healthier. Always work with your elderly loved one's doctor to ensure that the exercise plan that you have in mind for her is the right one for her. He can let you know if you need to avoid certain exercises or if your loved one is better off trying a different type of exercise.
Help Her Keep Her Brain Active
Another way to keep your elderly loved one healthy is to keep her brain active and engaged. Reading, playing games, solving puzzles, and interacting with loved ones are all ways to keep your loved one's brain healthy. Stick with activities that she enjoys for the most part, but don't be afraid to branch out to new activities, too.
As your elderly loved one becomes used to some of these changes, she'll appreciate that they're helping her to maintain her health.
The staff at Home Care Matters is available to talk with you and your family about all of your needs. Home Care Matters is a home care agency providing quality and affordable 

caregiver services in Oakwood, GA

and the surrounding areas. Call (678) 828-2195 for more information.
Latest posts by superadmin
(see all)