Caring for a Beloved Pet when Home Care is Necessary
Home Care in Braselton GA
National Pet Day is April 11th and for seniors who rely on home care, having a pet can be tremendously beneficial.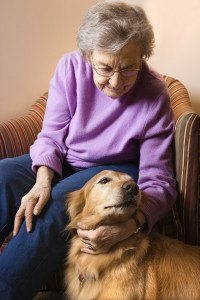 For any elderly individual who begins to require assistance with certain daily tasks, getting up out of bed, bathing, toileting, doing laundry, basic light housekeeping, and much more, he or she will also likely have more difficulty taking care of their beloved companion.  It's important to understand the needs of each individual pet and how seniors may be limited in their ability to meet those needs.
Below are several things to keep in mind when considering keeping a pet, getting a new one, or any other aspect of pet ownership for somebody who requires a home care aide on a regular basis.
1. Basic necessities. An animal has basic necessities, just as a person. The most essential happen to be food, water, and the ability to relieve itself. If the elderly individual has difficulty taking a small dog for a walk, then there will need to be some provision in place to allow that animal time to run out on its own in a safe manner. This could be on a run, in a fenced in area, or somewhere else.
If the senior has a medium to larger sized dog, it can be extremely dangerous to try holding that animal if it gets the scent of another animal and wants to run. A fenced in yard may be best for animals of this size.
2. Companionship. Every animal needs some level of companionship, just as people do. Cats are more prone to being independent than dogs, but even the most independent will likely want to spend some time near its human counterparts. Some animals will tend to get underfoot because they don't want to leave their human counterpart's side.  Make sure the senior can get through the house in a safe manner when a pet is part of the family.
3. Veterinary care. Every animal needs to see the veterinarian on an annual basis, just as people should be seeing their primary care physician. If the senior doesn't have transportation, no longer drives, or has difficulty driving, he or she may need some help getting the animal to the veterinarian.
Any time home care is a consideration, it's important to think about these basic aspects of pet ownership and be upfront and honest with the potential caregiver or the home care agency about any pets in the house. Most home care agencies can accommodate many different types of pets and assist the senior in keeping them healthy, happy, and safe.
The staff at Home Care Matters is available to talk with you and your family about all of your needs. Home Care Matters is a home care agency providing quality and affordable home care services in Braselton, GA and the surrounding areas. Call (678) 828-2195 for more information.
Latest posts by superadmin
(see all)