Celebrating Your Caregiver Role During Optimism Month
Caregiver in Johns Creek GA
Being a family caregiver for elderly parents can be stressful, exhausting, and emotionally draining, but it can also be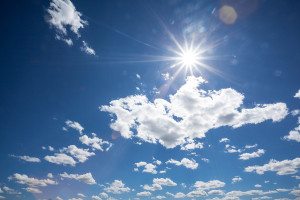 incredibly rewarding and a beautiful opportunity for you to strengthen your relationship with your parents. Caregiver stress is a very real thing, but this March choose to celebrate the wonderful things that come along with providing care for your aging loved ones during Optimism Month.
Optimism is not about ignoring the challenges in life, pretending the difficult realities you face from day-to-day do not exist, or letting people get away with things simply for the purpose of a good outlook. Instead, it is about focusing on the positive while still acknowledging the negative.  It's about choosing to think of things clearly, accurately, and with the goal of finding good (or at least not letting the negative take over). During Optimism Month, take time to not only enjoy the great things about being a caregiver, but to change your perspective on things around you that may contribute to stress or anxiety.
Try these ideas for feeling more optimistic, celebrating your caregiver role, and heading into the spring with a brighter outlook:
• Start a gratitude journal. Sometimes coping with difficult challenges makes it harder to see all the good things that go on around you. Take a few minutes every morning or evening to write down things that make you feel grateful. This exercise reminds you of the good things in your life and re-reading them during particularly hard moments can help keep you from getting overwhelmed. You do not have to write down major things. Even seemingly little things like finding a serving of your favorite coffee creamer hidden in the back of a drawer are worth a moment of gratitude. Remember to feel gratitude for your parents and the time you get to spend time with them.
• Savor the little things. Take the time to notice and cherish all of the little things you do encounter throughout the day. Make it a point to notice moments of fun and beauty you may regularly overlook and enjoy these moments. Something as small as a tiny snail with a particularly beautiful shell, the carefree romping of a puppy, or a breeze that smells like your favorite flowers puts a smile on your face and boosts your mood. Notice the little things about your parents as well, whether it is an unexpected kiss on your forehead from your mother, the smell of your father's aftershave bringing back memories from your childhood, or stumbling upon a moment of them dancing together or holding hands
• Take control of the things you can. Feeling out of control makes you feel pressured and pushed around. Focus on the things around you that you can control, even if they are minor. Change the decoration in your room, fix little things around the home, adopt a new healthy diet, or take situations that feel oppressive and change the way you think about them to make them feel less negative. Exerting this little bit of control makes you feel more centered and gives you a stronger outlook.
• Celebrate the renewal of spring. Spring is a time for rebirth, renewal, and starting over. Spend time enjoying the natural beauty and spiritual meaning of this season so you can feel centered, refreshed, and ready to take on the rest of the year. Spend quality time with your aging parents during this time so you can all enjoy the warmer weather, beautiful flowers, and family-centered holidays together.
The staff at Home Care Matters is available to talk with you and your family about all of your caregiver needs. Home Care Matters is a home care agency providing quality and affordable services in Johns Creek, GA and the surrounding areas. Call (678) 828-2195 for more information.
Latest posts by superadmin
(see all)