Combat Loneliness with the Internet: A Guide for Older Adults
Senior Care in Duluth GA
One of the biggest challenges for older adults is a sense of loneliness, feelings which can lead to depression and with that, a substantially increased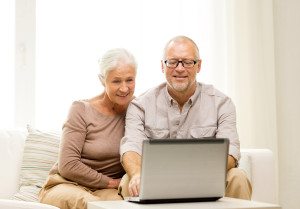 risk of death and other medical maladies. As our loved ones age, they may lose loved ones, feel isolated, and feel their sense of independence slipping away. Technology can assist our loved ones in home care stay connected with the outside world and help combat one of the key contributing factors in depression.
Learning new technology can seem daunting to someone who was born and into a world where the TV was not yet a common household item, telephones still used switchboards to connect, and the internet was not even a twinkle in the eye of its inventor. Fortunately, they do not need to be tech savvy to master the basics necessary to help them build communicate with the world from the comfort of home.
Slow Introduction
Introduce new technologies slowly, particularly if the person being taught isn't comfortable with technology. A new site or program a week is a good guideline, but can be adjusted based on their progress. Video chat is a great starting point. It is simple to set up and use and the usefulness is immediately apparent. Social media can be a great follow-up.
Tips for Success:
Remember to provide each step in simple, clear terms. Go slowly so they can try it out themselves.
Create a reference sheet they can use to get there on their own, or glance at while they learn.
No question is a silly question. Encourage questions and answer all of them.
Great Starting Sites
Youtube: The platform not only offers access to millions of how-to videos on subjects ranging from crochet to gardening and free access to tons of music, comedy, and other visual entertainment, it also has its own unique community of shared voices. Sharing the stories of the past can be incredibly fulfilling to older adults, and sharing it in an online archive where it can be accessed by people all around the world is a great way to help them reconnect with their own histories.
Facebook: The most popular social website for a reason, Facebook allows people to connect with new friends, reconnect with long lost ones, and stay abreast of the news in their community and abroad. The relatively straight forward design is simple for novice computer users to interact with and it takes little time to get an older family member set up and chatting.
Video/Voice Chat: With Skype, Facetime, and other free video and voice chat programs and apps easily available, your loved one need no longer feel isolated from distant friends and family. They can connect with their grandchildren on the other side of the country, swap stories, delight in school projects, help tutor, or even read bedtime stories.
Not a Total Solution
The internet can be a great tool to help combat the loneliness that comes from isolation, but it shouldn't be the only one. Even with an in-home care provider regularly checking in on your loved one, it's still important that they have face-to-face visitors and leave the house for social visits whenever possible.
The staff at Home Care Matters is available to talk with you and your family about all of your needs. Home Care Matters is a home care agency providing quality and affordable senior care services in Duluth, GA and the surrounding areas. Call (678) 828-2195 for more information.
Source
http://www.ncbi.nlm.nih.gov/pmc/articles/​PMC3016701/
http://www.researchgate.net/publication/5431128_Internet_Use_and_Loneliness_in_Older_Adults (not referenced, but part of my research)
Latest posts by superadmin
(see all)