Difficult Elder Care: Getting Through the First Few Hours After a Loss
Elder Care in Oakwood GA
While the primary goal of your elder care plan is to keep your aging parents as healthy, happy, comfortable, and safe as possible, you must also be aware that this care journey will eventually come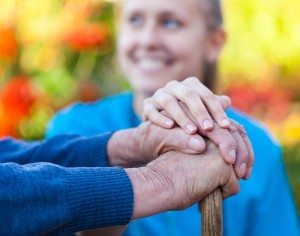 to an end. Thinking about losing your parents is not pleasant to think about, and is not something that you want to dwell on, but ignoring the inevitability of this loss can lead you to not prepare properly, making the loss even more difficult when it does actually happen. By knowing what to do in the first few hours, days, and weeks after a loss, you can feel more confident, reduce stress, and know you are ready whenever such a loss happens. Not only does this make you feel better within the context of your elder care relationship with your aging loved ones, but it also can ease their stress and make them feel more relaxed because you know their wishes and are prepared to carry them out. This supports a stronger parent-child relationship and ensures a higher quality of life throughout your parents' later years.
Some of the things you will need to do in the first few hours after a loss include:
• Support your surviving parent. This is your most important responsibility in the first stages of coping with a loss. Not only is your surviving parent dealing with her own difficult emotions during this time, but you also want to make sure that she continues receiving the level of care and assistance she needs to stay healthy and safe during this time. Call in her elderly health care services provider, a friend, a neighbor, a spiritual leader, or another child to dedicate their attention solely to the other parent while you handle other tasks;
• Make the proper notifications. It is important to know who you need to call after a death so that the proper authorities respond. Depending on your parent's wishes, it may not be necessary to call the police. Research in advance to find out what the regulations are in your area and talk to the elder care agency so you can find out if you need to call the police, your hospice worker, or a funeral home directly. Once those arrangements have been made, start calling friends and family who need to know. This is a great time to enact a phone tree where you can call one or two people and then they can pass along the news to others;
• Gather documentation. Make sure you have easy access to your parent's will, insurance information, directives, and advanced planning forms so that you can provide this information to the appropriate people and follow the correct steps to get your final arrangements in place. Find out what you will need in order to file for a death certificate so that you can have that information readily available and move through that process quickly and smoothly;
• Take care of yourself. Staying strong for your surviving parent and handling all of the arrangements calmly is important, but if you do not give yourself a chance to process the loss and grieve, it will hit you much harder later. Be sure you take care of yourself during these first difficult hours, eating a healthy diet, getting enough sleep, and allowing yourself to express emotion in a healthy way. Lean on your loved ones and accept help that is offered to you so you can all get through this time together.
The staff at Home Care Matters is available to talk with you and your family about all of your needs. Home Care Matters is a home care agency providing quality and affordable elder care services in Oakwood, GA and the surrounding areas. Call (678) 828-2195 for more information.
Latest posts by superadmin
(see all)