Your Dad's Oral Health is Important for These Reasons
When was the last time your dad went to the dentist? How well does he care for his teeth at home? It's a good time to talk about the importance of oral health as he ages.
The Risks of Poor Oral Hygiene
Gum disease is the biggest risk of poor oral hygiene. The gums pull away from the teeth and allow pockets of bacteria to form. Infection is possible. The bone may degrade and cause teeth to become loose in the jawbone or fall out.
There have also been studies that link poor oral health with heart disease. Bacteria in the mouth can get into the bloodstream and affect the valves in the heart.
Even if these aren't issues, how is your dad's self-esteem? Crowded, crooked teeth may make him feel uncomfortable talking to people. He may withdraw from social events because he's embarrassed. With clean, healthy teeth, it can help him feel better about himself.
Basic Oral Hygiene Steps
There are a few basics to oral health that your dad should do each day. Most importantly is to brush his teeth twice a day. A soft-bristled toothbrush is best. If he can afford a battery one like Sonicare or Oral B, it will help him by reducing plaque and lowering the risk of gingivitis. It's also easier on his fingers and wrists if he has arthritis.
The other reason he should consider a battery-operated or rechargeable toothbrush is that they have timers. He'll know when he's brushed his teeth for the full two minutes. As he brushes, he wants to get the bristles to reach all of the tooth surfaces and where the gums and teeth meet.
After brushing his teeth, your dad needs to floss. He wants to go between each teeth and behind the last molars in his mouth. If he struggles with arthritis, the help of a caregiver or a flosser that uses a blast of water are alternatives.
Once he's brushed and flossed his teeth, he should rinse his mouth with an alcohol-free mouthwash that helps fight bacteria and lower the risk of gum disease and plaque build-up.
If your dad is a smoker, he's more likely to develop gum disease. He should consider quitting for his health.
Caregivers Help With Oral Care
Don't let your dad's arthritis lead to poor oral care. If he has a hard time brushing and flossing, senior care services are there to help. Hire caregivers to help him brush and floss his teeth. To learn more, call a senior care agency.
The staff at Home Care Matters is available to talk with you and your family about all of your needs. Home Care Matters is a home care agency providing quality and affordable Homecare in Johns Creek, GA, and surrounding areas. Call (770) 965.4004 for more information.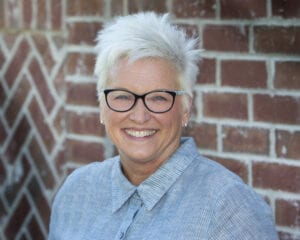 Latest posts by Valerie Darling, Founder, Owner
(see all)