Elder Care in Flowery Branch, GA – Senior Adults and their Sleep Patterns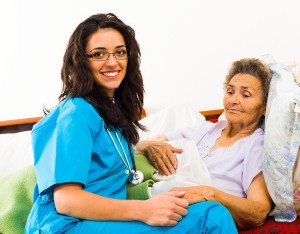 Some adults find that their sleep patterns change as they age. It can be more difficult to fall asleep and they awaken more times in the night. The overall sleep time is about the same or maybe slightly less than 8 hours. Because the person is having difficulty falling and staying asleep, they may spend more total hours in bed just trying to get enough total sleep time.
Some factors that affect sleep
Age
Pain from illnesses or injuries
Depression
Sleep apnea
Medications
Uncomfortable bed
Having difficulty sleeping can be very annoying and make a person feel more tired than usual during the day. For the older adult, they may feel the need to nap during the day. The only problem with that is it causes the sleep problems to continue. If naps are needed, they should be early in the afternoon and not last for too long.
When sleep difficulties drag on for weeks it's time to have your elderly parent checked out by their doctor. Other illnesses need to be eliminated so you can get to the bottom of the sleeping disorder.
Sometimes the older adult is afraid. There is a tendency for older adults who live alone to be afraid of sounds, noises or just the thought of being alone after dark. Take Edith for example, she was so afraid of sleeping alone in the house she would spend hours pushing furniture against the front door before she would go to bed. Then once in bed her sleep was not restful.
Overnight care may be the answer for the elder who doesn't need any care at night but does need someone else to be sleeping in the house with them. For the elder who needs help with daily tasks such as bathing, dressing or laundry, elderly home care would be more suitable.
It's important for you to know you have trusted care for your aging loved one. Having a compassionate caregiver is an invaluable resource to you, the family caregiver. It helps you and other family members go about the other duties in your lives without the worry of who is taking care of your elderly loved one's needs.
When you allow someone else to help you shoulder the caregiving role, you are able to blossom again. You can become who you really are: their daughter or son. Your time with them can be spent making fun and loving memories instead of being overwhelmed and stressed trying to juggle all the responsibilities in your life as well as caring for them. Helping your parents to get kind and caring professional caregivers is one of the most unselfish decisions you can make.
The caregivers at Home Care Matters are available to talk with you and your family about all of your elder care needs. Home Care Matters is a home care agency providing quality and affordable elderly care in Flowery Branch, GA and the surrounding areas. Call (678) 828-2195 for more information.
Latest posts by superadmin
(see all)