Benefits of Learning a New Language for the Elderly
Elder Care in Johns Creek GA
Many people remember the mandatory two years in high school spent studying a foreign language as tedious at best and a waste of time at worst. Unless you were traveling to Mexico, France or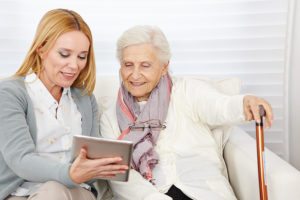 Germany following graduation, most of the new language skills would be lost. But time, travel and experience may have created a desire to learn a language later in life. The hurdle: rumors regarding how difficult the task is, or how the young are much better equipped to tackle a foreign language. Au contraire. Studies show that there is no loss of learning ability in regards to second languages as people age. Steve Kaufmann, a language enthusiast believes adults are better language learners than children due, in part, to their wide vocabulary. And he should know—he has learned four new languages since he turned 55.
Benefits
A study at Penn State suggests that learning a second language can actually change the brain, structurally and functionally. It is shown to increase memory and decrease the onset of dementia.
Where
Classes designed for older adults are growing in popularity and generally available at a number of venues. Senior community centers, adult courses at community colleges, and online classes are just a few of the possibilities. A class in which your loved one physically attends and interacts with others offers the brain-boosting benefits as well as the camaraderie and possibly a new friend or two.
Immersion
Another exciting, sometimes frightening, way for a senior to learn a foreign language is through immersion. This involves traveling to a foreign country, taking language classes, and mingling with the locals. Several groups offer this type of immersion studies designed specifically for older adults. If your parent has a sense of adventure and a fearless desire to explore, this is an opportunity of a lifetime. Not only will this experience stimulate the brain's synapses, it will instill self-confidence and a can-do attitude.
Tag Along
With all the benefits and possible experiences, you may consider joining your parent for this next adventure. Perhaps you will take a course in conversational Spanish before planning a trip to Spain in the next year or two. What motivation! If you need assistance with helping your parent with the daily activities of living such as bathing, dressing, light housekeeping, or transportation, so that you have time for class and studies, consider the aid of an elder care provider.
The staff at Home Care Matters is available to talk with you and your family about all of your needs. Home Care Matters is a home care agency providing quality and affordable elder care in Johns Creek, GA and the surrounding areas. Call (678) 828-2195 for more information.
Resources
www.ericdigests.org/pre-927/older
m.neuroloty.org/content/early/2013/11/06/01.wnl.0000436620.33155.a4
www.heraldextra.com/momclick/health-and-fitness/health-and-wellness-cloumn/health-wellness-seniors-derive-benefits-from-learning-a-second-language
Latest posts by superadmin
(see all)