Goal Setting Tips for Caregivers
Elder Care in Lawrenceville GA
If you are the primary caregiver for your elderly parent, you may feel overwhelmed at the endless amount of responsibilities you have. One way to make this role much easier and more productive is to have set goals. Knowing what you want to accomplish each day will take the stress out of caring for your loved one.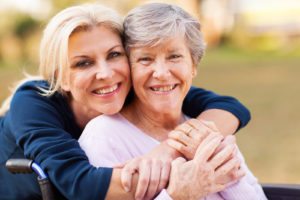 One effective way to set goals is by using the S.M.A.R.T system, which consists of the following rules:
Be Specific: When creating a caregiving goal, try to be as specific as possible. Have a clear thought as to what you hope to accomplish and how you expect to accomplish it.
Use Measurable Criteria: By having criteria that can easily be measured, you will be able to better track your progress and steps towards your goal.
Know how to Attain your goal: Have a clear plan as to how each goal will be attained. This includes knowing what your purpose is going to be.
Have a Timeframe: Have a clear timeframe as to when you would like each goal to be accomplished. This will help you create a sense of urgency in order to fulfill your dreams.
If creating goals has not made your caregiving role any easier, consider hiring an elder care provider to help you out. If you are trying to determine what type of goal you should make, here are some examples to consider.
Health. Staying fit and healthy may be a great goal for you to strive for. Not only will you feel and look better, but you will be able to handle the everyday stresses of caregiving much easier. This is because exercise has been proven to increase energy levels, stress, and stamina.
Vacation. Perhaps your ultimate goal is to go on a relaxing vacation. However, getting the chance to get away from it all takes a great deal of planning and coordination to make it a reality.
Organization. The lengthy to-do list you have on your shoulders may require a lot of organizational skills. If this is not your strong suit, you may want to consider creating a goal to become more organized. This is especially important if the elder is no longer able to make decisions and it is something you will need to do for them.
Take care of yourself. Caregiver burnout and stress are real problems among older adults. Prevent it from happening to you by seeing your doctor regularly and taking care of your health through a proper diet and exercise.
The staff at Home Care Matters is available to talk with you and your family about all of your needs. Home Care Matters is a home care agency providing quality and affordable elder care in Lawrenceville, GA and the surrounding areas. Call (678) 828-2195 for more information.
Source:  https://elizz.com/caregiver-resources/just-for-caregivers/setting-caregiver-goals-2016
Latest posts by superadmin
(see all)