Elder Care Tips: Enjoying a Safe Black Friday with Your Aging Loved Ones
Elder Care in Flowery Branch GA
For many people, the day after Thanksgiving is a time for getting up early and joining the masses in the stores for some discounted holiday shopping. If this is a tradition that you have long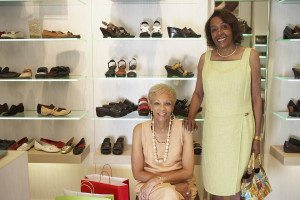 enjoyed with your aging parents, starting an elder care journey with them does not have to mean giving up your yearly gift-shopping ritual. Like nearly everything else in your care plan with your seniors, with a bit of planning ahead and careful preparations you can go out and have a fantastic Black Friday while still saying safe and healthy.
Try these tips to enjoy a safe Black Friday shopping experience with your aging loved ones:
• Know what you are after. It may be fun to just head to your local department store and scour the shelves for the deepest discounts, but if your seniors are dealing with physical, mobility, or cognitive challenges that are new or worsened since last year, this may not be the best plan. This method of shopping can be exhausting and put you at risk of facing major crowds without actually finding anything worth buying. Instead, have a plan for the things that you know you want to purchase, and an additional list of things that you would like to find if possible, and form your approach based on those.
• Know the sales. Many websites start leaking Black Friday deals weeks before the actual day. Use these sites along with the traditional newspaper ads to know about the sales that are going on at what stores so you can identify the ones that you know you want to visit and start prioritizing. This lets you hit the most important spots first so if your parents get tired or overwhelmed partway through the shopping experience, you can head home knowing that at least you got the most important things on your list.
• Have supplies. Black Friday shopping can start with the intention of just going out for a few minutes for one item and end up taking hours. Be prepared for the delays with a supply bag that includes any over-the-counter medications your parents might take, high energy snacks, and bottled water, along with simple entertainment items such as paperbacks that you can use in the event that you get stuck in traffic or in a long line.
• Get help. If one of your elderly loved ones does not enjoy Black Friday shopping, or does not have the capacity to do it any longer, do not feel like you have to force him into a potentially dangerous situation, or that your other parent has to miss out. Get in touch with the elder care agency in your area to ask about hiring a respite care provider who can be with your other parent while you are out shopping. Not only will this ensure that your parent has the care and assistance that he needs while you are away, but it will also give you peace of mind, which will make the entire experience more enjoyable.
The staff at Home Care Matters is available to talk with you and your family about all of your needs. Home Care Matters is a home care agency providing quality and affordable services in Dacula, GA and the surrounding areas. Call (678) 828-2195 for more information.
Latest posts by superadmin
(see all)