Elderly Care – Hobbies to Keep the Mind Active
Elderly Care in Gainesville, GA – Hobbies to Keep the Mind Active
As people get older, it is beneficial to them to keep their minds active, sharp and alert by exercising the brain.  For example, by learning a new language, working on puzzles, or playing board games. It's also important for the elderly to have hobbies or activities that they enjoy to keep their spirits high and life enjoyable. Here are five fun and easy activities for seniors:
1.         Arts and crafts are popular among seniors. It can be fun, relaxing and rewarding to make something. This is also a great hobby for senior citizens who are limited physically. Many senior centers offer classes or group gatherings for activities. A few suggestions include:
·        Painting or drawing
·        Ceramics or woodworking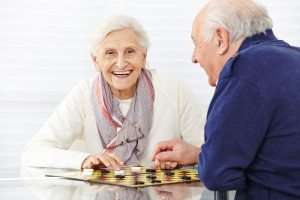 ·        Sewing, knitting, embroidery or crocheting
·        Make stationary or greeting cards
2.         Being outdoors and getting some fresh air can help seniors stay healthy.  In colder weather it's best to stay indoors and play a game that gets them moving around, like sports on the Wii, or walking through the mall/shopping center.
3.         Senior centers are great places for seniors to meet new people.  Staying social active is important for mental health. Many senior centers offer things like Yoga or exercise classes, dances, group outings to parks or museums, lectures and information about senior health, services, hobbies and activities in the community.
4.         Some seniors like to walk for exercise.  This is a great way to stay fit as well as socialize with other seniors. In winter months make sure there's an indoor track they can use. In warm summer months outside works fine.
5.          Games and puzzles are a wonderful way to challenge the mind and keep the memory sharp. Playing board games like Monopoly or Scrabble keeps the brain mentally stimulated. There are actually specific games aimed at seniors such as the Reminiscing Game or Senior Moments, both of which are memory games. Crossword puzzles are challenging and many companies offer large print crosswords or large sized puzzle pieces.
The caregivers at Home Care Matters are available to talk with you and your family about all of your elderly care needs. Home Care Matters is a home care agency providing quality and affordable services in Gainesville, GA and the surrounding areas. Call (678) 828-2195 for more information.
Latest posts by superadmin
(see all)