What Are Some of the More Common Behaviors Associated with Dementia?
Elderly Care in Braselton GA
Many of the behaviors associated with dementia can be disturbing for family caregivers and other family members, but they're most often a cue to start looking for causes. If your loved one is overstimulated or is experiencing discomfort physically, you may be able to resolve the issue.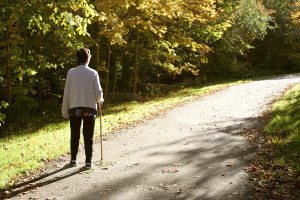 Displays of Anger or Aggression
Your elderly loved one may have been the most gentle of individuals until shortly after her dementia diagnosis. Dementia patients can suddenly become extremely angry and even display physical aggression. It's important to remember that your loved one isn't acting out in this manner deliberately. Changes in her brain are causing these reactions.
Pacing or Rocking
Pacing, rocking, or other repetitive behaviors are extremely common in people who have dementia. Sometimes these behaviors are a result of anxiety, but they can also be a result of a loved one who has too much energy and doesn't know how to work it off any other way. Your loved one may also have other physical needs, such as hunger, thirst, or a trip to the bathroom, but is unable to communicate those needs.
Accusations and Hallucinations
Because dementia is a disease of the brain, the brain can tell your loved one some really interesting tales. Some of these hallucinations or delusions feel so real to your elderly loved one that you might find her making accusations against you or other family members. Always let your loved one's doctor know about these types of issues so that he can attempt to find a solution.
Wandering
Very often loved ones who have dementia start to feel that they need to be somewhere else. This can lead to your loved one "escaping" her home and looking for a person or another location. Sometimes wandering can go hand in hand with hallucinations, so finding a solution for the hallucinations can occasionally help with wandering.
Sundowning
Sundowning is a phenomenon that occurs in the late afternoon, often when the sun is going down. It's a period of time when your loved one's normal behavior may become much worse, your loved one may be more likely to wander, and aggression can spike. Work with your loved one's doctor to find solutions for severe issues related to sundowning.
If you're not sure what type of behavior you're seeing in your loved one, talk with her elderly care providers to help you sort them out.
The staff at Home Care Matters is available to talk with you and your family about all of your needs. Home Care Matters is a home care agency providing quality and affordable

elderly care in Braselton, GA

and the surrounding areas. Call (678) 828-2195 for more information.
Latest posts by superadmin
(see all)