What Can You Do to Help Your Parent Cope with a Sinus Infection?
Elderly Care in Cumming GA
A sinus infection can be a truly miserable situation. As a family caregiver for an elderly parent, however, you should be aware that this type of infection can become much more serious. Elderly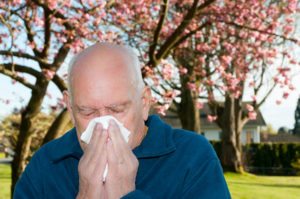 adults tend to have immune systems that are less effective than younger people. This makes it more difficult for that senior to resist infections, and to fight off infections if they do develop them. This also makes them more vulnerable to contracting additional infections and illnesses if they have already gotten an infection. Something that is seemingly minor for you could develop into something serious for your parent, so it is essential that you ensure that they get the medical treatment that they need to control and overcome the infection.
In addition to helping your parent actually get over an infection, it is important that you help them cope with the symptoms of the infection so that they can get through it more comfortably. Helping your parent feel more comfortable can get them more rest so they are better able to heal and move forward.
Use these tips to help your parent cope with a sinus infection:
Comply with medication guidelines. If your elderly parent receives a prescription for antibiotics, it is critical that they comply with the prescription guidelines precisely. This means they need to know when to take the medication, how much to take, and how to take it, and then follow these specifications. Offer reminders to make sure that they stay on track.
Breathe in steam. Warm, moist air can be extremely soothing when your parent has an infection in their sinus cavity. Encourage them to take a hot shower or to stand in the bathroom with very hot water running into the tub, without them touching the water, so that they can breathe in the steam. You can also fill a pot with water and simmer it so that your parent can put their face over the steam and breathe it in. Make sure that the water is not too hot as to prevent burns.
Warm compresses. Warmth can help to relieve pain, pressure, and swelling in the face. Try adding dry rice or beans to a clean tube sock, tying off the sock, and microwaving for thirty seconds. Shake the rice or beans to distribute the heat, and then rest the sock over the eyes and sinuses to provide soothing relief.
If your aging parent suffers from frequent sinus infections, has been ill recently, or you are concerned about their health as you move into the cold and flu season, elder care can be extremely helpful for them. An elderly home care services provider can be in the home with your aging parent to help them to overcome their infection effectively, as well as create healthier habits and lifestyle choices that can protect their body and boost their ability to resist infection and fight ones that do develop. This can include offering reminders for medications, creating and following through with an aggressive germ control approach, and keeping your parent active, rested, and eating well. This personalized approach to care and management can help your senior to maintain a healthier lifestyle as they age in place so that they can enjoy a more fulfilling quality of life throughout their later years.
The staff at Home Care Matters is available to talk with you and your family about all of your needs. Home Care Matters is a home care agency providing quality and affordable 

elderly care in Cumming, GA

and the surrounding areas. Call (678) 828-2195 for more information.
Source:  http://www.webmd.com/allergies/sinusitis-and-sinus-infection
Latest posts by superadmin
(see all)