Tips for Making the Most of Doctor's Appointments for a Senior with Alzheimer's Disease
Elderly Care in Lawrenceville GA
If you are a caregiver for a senior who is living with Alzheimer's disease, you are likely already familiar with the fact that your parent will need to visit the doctor frequently. The further your parent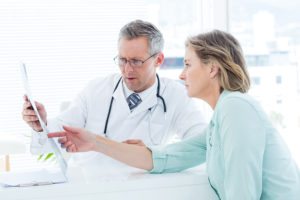 progresses in their disease, the more frequently they are likely to need to go to the doctor in order to manage not only their dementia, but their other physical health complications as well. As their family caregiver you can help your parent to live the healthiest lifestyle possible by making the most of those doctor's visits. By attending with them and using a few simple strategies, you can act as an advocate for your parent, improving their health and empowering them to manage their health in the best ways possible.
Use these tips to help you make the most of your parent's doctor's appointments as they progress through Alzheimer's disease:
Choose the best time. The time that you choose for your parent's doctor's appointments can make a major difference in how well they handle them. Try to schedule these appointments for times of the day when your loved one is at their best, rather than when they would usually be doing something such as eating or napping.
Prepare for waits. Pack a bag with snacks, water, and simple forms of entertainment to keep them comfortable and engaged in the waiting room or while you talk with their doctor.
Prepare for discussions. Bring along as much information as you probably can to make your conversations with the doctor as effective as possible. This includes lists of medications and treatments your parent is currently using, any new or worsened symptoms that you have noticed, and any questions that you might have for the doctor.
Take notes. Bring along a notebook and pen and be prepared to take notes of the conversations during the appointment. Record your parent's vital signs, any changes that the doctor notes, and the answers to your questions. Also record any new prescriptions or management recommendations that they offer so that you can reference this information later.
Be honest. Your parent's doctor is not looking to be impressed by you or your parent's care experience. They want the information that they need to effectively evaluate your loved one's condition and make recommendations to help them live the best life possible. Be honest and straightforward with all information that you provide them, including any challenges that you are facing or difficult behaviors that your parent is experiencing. This will give the doctor a full view of your parent's disease and enable them to help you in the best ways possible.
If your elderly loved one has recently been diagnosed with Alzheimer's disease or their symptoms have increased, now may be the ideal time for you to consider elderly care. An elderly home care services provider can be a valuable resource for you throughout the course of your care journey with your aging parent. This care provider can create a customized approach to care and assistance tailored to your loved one's individual needs, challenges, and limitations, as well as their individuality and personal preferences. This means that they will be able to live a safe, healthy, comfortable, and happy life while maintaining as much independence, autonomy, and activity as possible as they age in place.
The staff at Home Care Matters is available to talk with you and your family about all of your needs. Home Care Matters is a home care agency providing quality and affordable 

elderly care in Lawrenceville, GA

and the surrounding areas. Call (678) 828-2195 for more information.
Latest posts by superadmin
(see all)