National Aphasia Awareness Month
Elderly Care in Oakwood GA
June is National Aphasia Awareness Month. This month, dedicate yourself to learning more about this communication disorder so that you can be sure that your parent is receiving the level of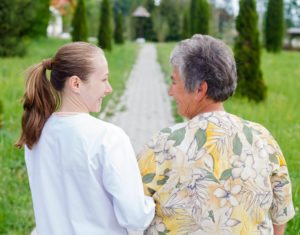 care, assistance, and support that they need to handle it in their daily life.
Aphasia occurs when the areas of the brain that are responsible for language are damaged, causing disruptions in your parent's ability to communicate effectively. This condition does not in any way impact intelligence, but does impact the person's ability to utilize language properly.
Some of the common symptoms of aphasia include:
Having difficulty producing the word that they want to say or expressing the thought or feeling that they want to
Feeling as though a word or thought is "right at the tip of their tongue"
Frequently substituting words for the words that they actually mean, but often coming up with words that are somewhat related
Reversing sounds within words that they want to say, such as "aminal" rather than "animal"
Coming up with made-up words or saying strings of sounds and nonsensical words
Saying words and sounds in streams that sound coherent but that do not actually make any sense
Not fully understanding what someone is saying to them, especially if the person is speaking for a long period of time or using complex sentence structures
Having difficulty deciphering speech when there is a lot of background noise or other distractions
Not being able to properly interpret figures or speech, sarcasm, or jokes
Having difficulty reading and understanding written words when they have never had difficulty with this skill before
New issues spelling words or being able to come up with proper sentences
New difficulties understanding numbers or number concepts
Though it sounds like a frightening and unusual condition, the reality is that aphasia is actually a fairly common condition. In fact, the National Institute on Neurological Disorders and Stroke estimates that there approximately one million people throughout the United States who are currently dealing with the condition.
Aphasia can put extra challenges into the daily life of your aging parent. Not only will they have greater difficulty expressing themselves effectively, but this can impact their emotional health as well. They may get frustrated, feel embarrassed, and start to avoid social situations because they do not want to deal with the condition and its effects. This can then lead to feelings of depression, anxiety, loneliness, isolation, and loss of motivation. Creating a course of management that helps your parent to deal with this condition in effective and meaningful ways can help them to avoid these negative effects and continue to enjoy an active, healthy quality of life.
An elderly care provider can be instrumental in your efforts to help your parent with aphasia. This elderly health care services provider can be there for your parent, helping them to cope, coming up with alternative means of communication, and ensuring that they get the care and assistance that they need regardless of their communication issues.
The staff at Home Care Matters is available to talk with you and your family about all of your needs. Home Care Matters is a home care agency providing quality and affordable 

elderly care in Oakwood, GA

and the surrounding areas. Call (678) 828-2195 for more information.
Source:  http://www.asha.org/public/speech/disorders/Aphasia/
Latest posts by superadmin
(see all)