Getting a "Second Opinion" During the Home Care Provider Interview Process
Home Care in Dacula GA
Hiring a home care provider can be one of the best decisions you can make in your care journey with your elderly loved ones. An in home health care services provider can be tremendously helpful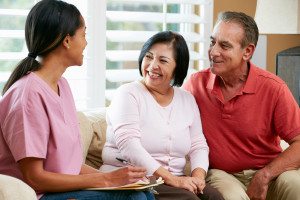 in filling gaps in the care you are able to give your parents, enrich their social interaction, and handle care tasks that you may not feel comfortable or be capable of handling. Choosing the right care provider, however, is essential to making sure that your aging loved ones get the most benefit from their care relationship.
The process of selecting an in home health care services provider can seem daunting, but going through it carefully and thoroughly gives you the opportunity to select a care provider who is compassionate, experienced, enthusiastic, and compatible with your elderly loved ones' personality. This ensures they are comfortable and happy, and that you are confident they are getting the level of care they need and deserve. Because of the importance of this decision, you should not feel like you have to make the choice on your own. In fact, getting a "second opinion" during the process can make selecting the care provider that is right for your parents easier and less stressful.
Use these tips to help you get a reliable second opinion during the process of interviewing prospective in home health care services providers:
• Find someone you trust. You want to get a second opinion from someone who you care about and trust so that you feel confident in their opinion. This person does not have to be someone who is actually involved in your parents' ongoing care, but should be someone who has an emotional investment in your loved one's health and wellbeing so that he or she will take this responsibility seriously.
• Plan ahead. Talk to your second opinion person before the interview and let him or her know what you are thinking about in terms of the ideal care provider and the opinions that you want your helper to come up with during the interview. This gives you a united front so that you both know what to look for and how to discuss later.
• Watch carefully. While you want to hear what your second opinion helper has to say about the care provider after the interview, you also want to evaluate the candid reactions that come during the interview itself. Subtly watch your helper's reactions to the things that the prospective care provider says, whether he or she looks comfortable and at ease, and the tone used when interacting with the prospective care provider. This can tell you even more than the actual conversation later.
Get in touch with the elder care agency in your area to find out more about hiring an in home health care services provider who can help you enhance your care journey with your aging loved ones, and to get recommendations for the interview process so you can feel confident in your choice.
The staff at Home Care Matters is available to talk with you and your family about all of your needs. Home Care Matters is a home care agency providing quality and affordable home care services in Dacula, GA and the surrounding areas. Call (678) 828-2195 for more information.
Latest posts by superadmin
(see all)