HOME CARE MATTERS WINS 2016 BEST OF IN-HOME CARE AWARD FROM SENIORADVISOR.COM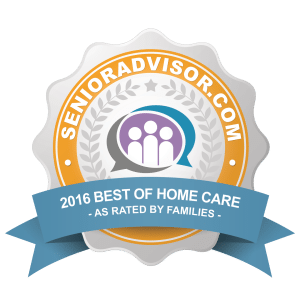 Home Care Matters is proud to announce their selection as a 2016 Best of In-Home Care Award Winners from SeniorAdvisor.com, the largest ratings and reviews site for senior care and services in North America.
Winners of the SeniorAdvisor.com Best of 2016 Awards represents the top tier of in-home care, assisted living and other senior living providers, based on the online reviews written by seniors and their families. This exclusive designation places the winners in the top one percent of senior care providers according to those who matter the most – the consumers. Of the nearly 100,00 providers currently listed in SeniorAdviosr.com, just over 1,000 were recognized with this award.
Home Care Matters is the only winner in Flowery Branch (and one of only a handful in Georgia), and regularly receives highly positive reviews from their families.
"Home Care Matters is honored to win this prestigious award. Our team works very hard to deliver and ensure quality, compassionate and loving care to our clients and their families. To be recognized helps us stay focused on our efforts and reaffirms that we are continually doing the right things. We are obsessed with our care, professionalism, and service," says Valerie Darling, Owner and Managing Director.
To learn more about Home Care Matters and to see if their services may be right for you or your loved one visit their website, www.homecaremattersga.com or call 770.954.4004.
Latest posts by superadmin
(see all)