Checking for Health and Safety in Your Parent's Kitchen This Holiday Season
Home Care in Flowery Branch GA
The holiday season is all about love, compassion, tradition, and memories. If you are a family caregiver, this carries even more meaning. You want to enjoy the holiday traditions that you have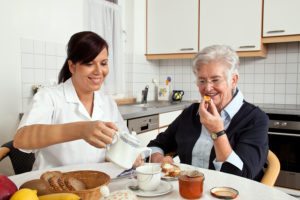 always loved and spend quality time with your aging loved one, but you also want to make sure that your care goals for them are being fulfilled effectively. Especially if you live at a distance from your aging parent, this is a wonderful opportunity for you to spend more time with your parent than you are likely to throughout other times of the year. This is your chance to both stay bonded and connected with your parent, but also to check in on your loved one and ensure that they are healthy, safe, and comfortable.
When you are visiting with your aging parent during the holiday season, take the time to review different areas of their home to detect any challenges or issues so that you can make meaningful modifications ad changes that will resolve these problems and keep them aging in place safely, healthily, and comfortably. One area of the home that this can be particularly important is the kitchen. This is an area of the home that can host many possible threats, as well as many indications of issues such as cognitive limitations.
Some things to check for in your parent's kitchen to determine their health, safety, and condition include:
Trash can. Make sure that the trash has been taken out regularly. If it has not, it could indicate issues such as loss of mobility, range of motion, and strength, but could also point to cognitive difficulties.
Food safety. Check the refrigerator for issues with your parent's food. This could mean expired product, molded or old food, or items that should not be in the refrigerator. These problems could indicate vision problems, loss of acuity of sense, or cognitive limitations, as well as increased risk for potentially serious foodborne illness or infection.
Condition of appliances. Outdated appliances and wiring could be a serious danger for your aging parent. Check all of their appliances, including their toaster, coffee maker, stove, and microwave, to ensure that it is in good condition and that the wiring is intact. Unplug and plug each small appliance to make sure that there are no sparks or other concerns, and feel around the power outlets to detect any heat.
Unsafe footstools. If your parent keeps food or other items too high for them to reach when they are standing on the floor, ask them to show you how they get to those items. If they are using an unstable footstool, a chair, or other such items, they could be in serious danger. Replace this device with a safer item that will help to prevent collapses or other falls.
If you have noticed that your aging parent is dealing with challenges, limitations, and other issues that threaten their safety and well-being as they age in place, now may be the ideal time for you to consider starting home care for them. An in-home senior care services provider can be with your parent on a customized schedule tailored for their individual needs, challenges, and limitations, but also for their personality, lifestyle, and goals. This means that they can enjoy a more active, engaged, and fulfilling quality of life while also staying safe and healthy. As their family caregiver, knowing that there is a home care provider with your parent can give you confidence that they are always getting the care, assistance, and support that they need whether you are able to be with them regularly or if you live at a distance and are not able to visit with them frequently. When it comes to helping them to maintain the health and safety of their kitchen, a senior care provider can help them manage tasks such as washing dishes and keeping their refrigerator clean, keep track of their food to ensure expired or unhealthy products are disposed of, guide them in potentially dangerous tasks such as cutting and chopping, and remind your loved one of food safety considerations.
The staff at Home Care Matters is available to talk with you and your family about all of your needs. Home Care Matters is a home care agency providing quality and affordable home care in Flowery Branch, GA and the surrounding areas. Call (678) 828-2195 for more information.
Latest posts by superadmin
(see all)