5 Ways Older Adults Can Celebrate National Sewing Month
Home Care in Oakwood GA
September is National Sewing Month, so it is time to dust off the sewing machines, grab a few friends or family members, and start sewing. Even if your elderly parent has never sewn before,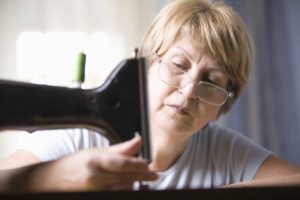 encourage them to take a class that will teach them this crafty skill or learn from someone close to them.
Some older adults who live alone may not want to do this hobby alone, so having someone to keep them company or learn how to sew with them will give them the motivation to do it. A home care provider may be just the person your loved one will need for this task, while also helping with other responsibilities and chores that have become increasingly difficult for them to do as they aged.
So, if your aging loved one is looking for a way to celebrate National Sewing Month, here are a few ideas to consider.
Create a clean and organized sewing area. Whether your loved one sews frequently or is new to this craft, having a clean, organized area to work in will inspire them to continue participating in this hobby. Keep all items in organized drawers and the sewing space free of any clutter.
Tune up the machine. After several uses, the machine may not work as well as it did in the beginning. Tuning it up will help fix any problems the sewing machine had and ensure that it will run like new.
Re-educate yourself. Even if your loved one has been sewing for many years, there may be new tips and tricks they would be interested in learning. Look for classes in the senior's area that will help them brush up on their skills. These classes can be found at senior centers, community centers, or through local colleges.
Teach younger generations. Older adults usually enjoy getting the chance to share their talents with their children or grandchildren. Let them enjoy this time with their younger family members, while also leaving memories their family members will remember for years to come.
Craft a gift. Is there a baby or wedding shower coming up? Encourage your elderly parent to sew a gift, such as a quilt. The recipient of the gift will appreciate the thoughtful gift and the senior will be able to make something their loved one can cherish.
The month of September is the perfect time to get your loved one back to sewing or teaching them a new hobby. Encourage them to try out these ideas.
The staff at Home Care Matters is available to talk with you and your family about all of your needs. Home Care Matters is a home care agency providing quality and affordable 

home care in Oakwood, GA

and the surrounding areas. Call (678) 828-2195 for more information.
Source:  http://www.sewnews.com/blogs/sewing/2011/09/22/6-ideas-to-celebrate-national-sewing-month/
Latest posts by superadmin
(see all)