How Are You Planning to Celebrate National Grandparents Day Sept 12th?
Visiting with Family through Elderly Care in Flowery Branch GA is A Great Way to make Your Grandparents Special
Jean could remember spending time at her grandparents' house every so often when she was a little girl. Growing up, her grandparents lived a couple of hours away, so she didn't get to see them all that often. Mostly for holidays, birthdays, and the occasional special event, but beside that they didn't spend a lot of time together. In recent months, it became clear that Jean's grandmother required some type of elderly care. While no one in the family lived close enough to be her primary elder care provider, Jean made it a point to visit more frequently.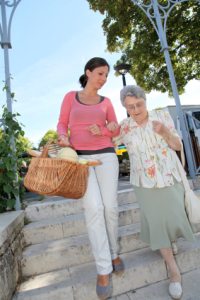 Jean was now in her 20s and had a full-time job, though it wasn't really a career that she wanted to pursue. It helped pay her bills, but it also gave her some flexibility to drive the couple of hours once a week to visit her grandmother.
While her grandmother had hired an elder care provider, Jean discussed the prospect of taking care of her on the weekends. For Jean, this would give her an opportunity to not only get to know her grandmother better, but to also help ensure that she was safe and healthy when the professional elder care provider was not on duty.
National Grandparents Day is September 12, so if you have an elderly grandparent who require some type of care, make it a point to visit with them as often as possible.
You may not be inclined to provide any type of elderly care for them, but that doesn't mean spending time with them isn't going to help.
A common situation that elderly individuals face as they age and as they begin to lose muscle mass and the ability to do certain things is a feeling of isolation and loneliness. The older that a person is, the more likely it will be that they have lost numerous friends and loved ones through the years. They may also lose the ability to get around and visit with other people and take part in various activities they used to enjoy.
Family members who don't provide any type of elderly care may also keep their distance because they are unaware of what they might be able to do to assist their loved one or they may simply be too busy with their own lives. A person who requires elderly care can benefit tremendously from family members taking the time to visit them every so often.
If you live close enough and have the means, plan on visiting with your elderly loved one at least once a month. You don't have to provide elderly care for them, but if they require assistance and you have the means, it certainly wouldn't hurt.
The caregivers at Home Care Matters are available to talk with you and your family about all of your elder care needs. Home Care Matters is a home care agency providing quality and affordable elder care in Flowery Branch, GA and the surrounding areas. Call (678) 828-2195 for more information.
Latest posts by superadmin
(see all)