Macular Degeneration, Medications, and Some Common Challenges: Senior Care Considerations
Dacula, GA – Macular Degeneration, Medications, and Some Common Challenges: Senior Care Considerations
Macular degeneration is a very serious eye condition in which the center field of vision deteriorates. Without treatment it can lead to permanent loss of vision and potentially even blindness. For seniors who have been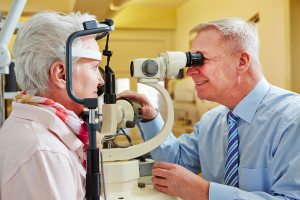 diagnosed with Age-Related Macular Degeneration (AMD), there are numerous challenges they will have to face on a regular basis.
One of the challenges might be taking the correct medications at different times throughout the day. If the senior has been prescribed numerous different medications that have to be taken at various time throughout the day, it can be confusing to say the least to keep track of it all.
Most of the time people will look at the bottle and read the label to ensure that they are taking the right medication at the right time. Somebody who has been diagnosed with macular degeneration may have a more difficult time reading their prescription medication bottles. As a result, they could inadvertently take the wrong medication at the wrong time.
It's important to note that family members and any senior care service provider who is not licensed or certified to administer medications cannot legally help the senior with this situation. They can certainly remind the individual when it's time to take medication, but they cannot take that medication out and hand it to them. It's crucial that the elderly client understand a few steps they can take to ensure safety and security.
Using pill organizers is one of the most effective ways to ensure that an individual is taking the correct ones at any given time. There are numerous types of pill organizers that can be divided into weeks, several different sections during a day, and even go for an entire month at a time.
Anyone who is struggling to see clearly should be willing to ask for assistance from those around them. Having someone read the label could help to ensure they are taking the right one. A visiting nurse can help them organize their medications for the week and ensure that when the time comes they take the right ones.
February is AMD/Low Vision Month and for seniors who are dealing with vision related problems, it's important to focus on the specific challenges they might be facing and look for ways to help keep them safe.
The staff at Home Care Matters is available to talk with you and your family about all of your senior care needs. Home Care Matters is a home care agency providing quality and affordable services in Dacula, GA and the surrounding areas. Call (678) 828-2195 for more information.
Latest posts by superadmin
(see all)