One Daughters Suggestion on Helping her Mom Adjust to Hiring Elder Care
Helping Mom Cope with the Switch to Professional Home Care Services near Buford, GA
For years your mother managed to take care of herself just fine, even after the health issues she had to contend with. In recent months, though, things have become more challenging for her and at first you offered whatever assistance you could but you both agreed something more was needed. That's why you contacted and ultimately hired home care services for her.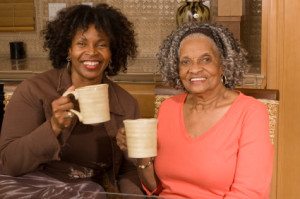 Any time people face major changes in their life; it's going to be stressful. Even moving into a new house is considered one of the most stressful events in a person's life. So you want to make this transition from being an independent person to relying on a professional in home care provider as smooth as possible.
There are a number of things you can do that can help your elderly mother cope with this switch to relying on home care services.
Ask about her concerns or questions.
Your mother may have a number of questions regarding home care services that she hasn't asked yet. Maybe she's assuming her questions are going to be considered 'foolish' or mocked, so she keeps them to herself.
When you reach out and show you're concern and willingness to listen, she'll be more inclined to open up.
Be there for moral support in the beginning.
If you live close to your mother, offer to stop by during the day or evening during the first few days when the in home care provider is planning to stop by. This could help soothe your mother's anxiety about the issues.
If you don't live close enough to make that practical, you can check in with her by phone as often as she feels is ideal. Only be responsive to her needs; don't smother her with your calls.
Get the house ready for the in home care provider.
Even if the house is clean and tidy, there are probably a few things you could do with your mother to help get it ready for this new caregiver to show up. Working together will give your mother the sense that you're both in this together, that she's not alone, and that can make a world of difference for her.
If you're having difficulty figuring out what else you might be able to do that will help your mother cope with this switch to home care services, just ask her; she knows what she needs better than anyone.
The caregivers at Home Care Matters are available to talk with you and your family about all of your elder care needs. Home Care Matters is a home care agency providing quality and affordable home care services near Buford, GA and the surrounding areas. Call (678) 828-2195 for more information.
Latest posts by superadmin
(see all)