Playing the Piano Again with Home Care Services in Braselton, GA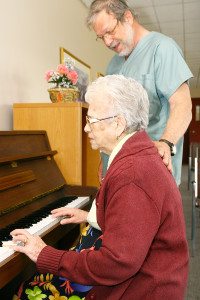 Tina had been playing the piano for most of her life. Ever since she was six years old, she loved to tickle the ivory, or so the saying goes. When her children noticed she was struggling to take care of herself at home, one thing that she assumed she'd have to give up was playing the piano.
Tina had arthritis in both hands but it wasn't so severe that she couldn't tolerate the pain or discomfort of playing. However, she was uncomfortable walking upstairs all the time where the piano had been stored in one of the spare bedrooms. So she had given up on her lifelong passion.
She didn't really like the idea of having home healthcare services coming to her home. She understood that she had some difficulty with her personal care, but she felt that relying on somebody to help her around the house meant that she was going to have to give up a lot more than just playing the piano.
When her caregiver showed up for the first time, she asked Tina about the layout of the house. Tina was a little uncomfortable with this, but over time she began to realize that her caregiver was interested in all aspects of her own life. She wanted to know what each room was for and, unbeknownst to Tina, that ended up being a blessing for her.
When Tina finally got around to talking about her house that she lived in for 40 years, she mentioned the piano in the spare bedroom. The caregiver asked if she still played and Tina said no. When pressed, Tina admitted that it wasn't so much the arthritis in her hands as much as the challenge of getting up and down the stairs that caused her to stop.
That's when the in-home care provider urged Tina to go upstairs with her, with assistance, and show her how well she played. The moment that Tina sat down at the piano, she felt the years wash away and a smile spread across her face.
September is National Piano Month and if you know anybody who is advanced in years and either once played the piano or has shown an interest in it at some point in the past, now is the perfect time to get them playing once again.
There is no such thing as being too old to play a musical instrument. Playing the drums might be a bit unrealistic, but tickling those familiar ivories is certainly not.
The caregivers at Home Care Matters are available to talk with you and your family about all of your elder care needs. Home Care Matters is a home care agency providing quality and affordable home care services in Braselton, GA and the surrounding areas. Call (678) 828-2195 for more information.
Latest posts by superadmin
(see all)