Early Spring Activities to do with Your Senior Loved One
Senior Care in Braselton GA
They say that March comes in like a lion and out like a lamb, meaning that the end of another long winter is near.  During the winter, there may have been many things that your senior loved one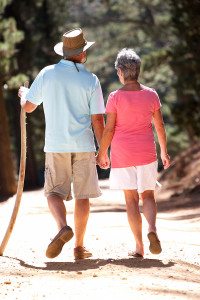 was unable to do due to harsh weather, freezing temperatures, and not being able to drive, especially if you live in a colder climate.  Now that spring is almost here, your senior loved one will be able to do more activities outside and get out and about more often.  If your senior loved one is eager to do some spring activities, here are some suggestions for some fun things you can do together in the early spring.
Taking Walks Outdoors
With the temperatures getting warmer, it will be more comfortable and safer for your senior loved one to take walks outdoors.  If the ice has melted and the temperature is mild, invite your senior loved one to go with you on a walk around at the neighborhood or at a local park.  You are both sure to appreciate the fresh air and sunshine after a long season of staying indoors.
Birdwatching
When the temperatures climb, you and your senior loved one may notice that your feathered friends are returning to your yards and local parks.  Grab a bird book and some binoculars and see which types of birds you can identify.  It is also a good time to fill up a bird feeder or bird bath in the yard to attract birds to your loved one's home.  Watching beautiful wild birds fly and interact can be relaxing and fun.
Gardening
Even if it is not quite time to put seeds or plants in the ground outdoors, early spring is the perfect time to get a garden started.  You and your loved one can rake and prepare the soil, clean up the garden, or start seeds indoors.  When you do a little bit of preparation now, you and your senior loved one will set the foundation for a beautiful garden to enjoy all spring and summer long.
Enjoy a Local Ball Game
With spring on its way, your local high school and little league baseball teams will be starting to get into shape for their season.  If your senior loved ones enjoy a good sporting event, try taking them to a high school or little league baseball game on a sunny afternoon.  It will be a great opportunity to catch up with others, enjoy the outdoors, and cheer on their local team.
The staff at Home Care Matters is available to talk with you and your family about all of your needs. Home Care Matters is a home care agency providing quality and affordable home care services in Oakwood, GA and the surrounding areas. Call (678) 828-2195 for more information.
Latest posts by superadmin
(see all)