Caring for a Parent Following a Stroke
Senior Care in Cumming GA
A stroke can leave both parent and child immobilized. The sudden and sometimes severe effects leave family members in various stages of grief and shock. The good news is that many people who have experienced a stroke continue to improve for several years following the incident.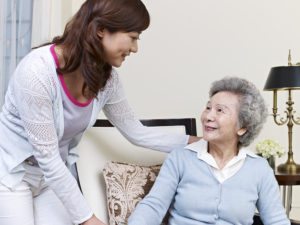 Rehabilitation
Depending on the impairments your loved one faces, they will most likely work with either a speech therapist, physical therapist, occupational therapist, or a combination of the three. Most therapists will want to include you in the recovery process by having you perform rehabilitative exercises at home with your parent. Your parent may be learning new skills, relearning old ones, or adapting to the limitations they are faced with. Patience and persistence are important practices for both of you. Keeping a therapy log will help those caregivers that provide part-time care and ensure continued therapy.
Signs of Impending Stroke
It's important to be aware of the symptoms your loved one may experience if they are experiencing another stroke. These warning signs consist of slurred speech, drooping face—if they smile, one side of their mouth will not raise as high as the other—and arm numbness or weakness. Dizziness and confusion are also possible signs as well as shortness of breath and heart palpations. If they report any of these symptoms or you notice their existence, call 911 immediately.
Reduce the Risk
Prevention is always the best approach to treatment.
Alcohol: Limit you parent's alcoholic intake. Having more than two alcoholic drinks per day increases one's chances of a stroke by 50%.
Atrial Fibrillation: AFib is an irregular, rapid heartbeat. Those with this condition have an increase stroke rate five times that of an average person. The reason for this is their increased chances of developing a blood clot. Making sure your loved one is on an anti-coagulant medication will significantly lower their chance of stoke.
High Blood Pressure: HBP increases your parent's chance of a stroke. This can be controlled with diet, exercise and medication.
Smoking: Smoking thickens the blood causing potential clots to form. Stopping is vital to your loved one's long-term recovery.
Senior Care Provider
It may seem like a long road to recovery for your loved one, but know that they and you have a lot of resources to help you both through this trying time. One of these is your senior care provider. These professional caregivers have cared for many seniors that have experienced the effects of a stroke. They can provide them with the care they need, giving you time to refresh and care for yourself.
The staff at Home Care Matters is available to talk with you and your family about all of your needs. Home Care Matters is a home care agency providing quality and affordable 

senior care in Cumming, GA

and the surrounding areas. Call (678) 828-2195 for more information.
Latest posts by superadmin
(see all)