August is What Will Be Your Legacy Month
Senior Care in Gainesville GA
The month of August is celebrated as What Will Be Your Legacy Month, encouraging all seniors to think about how they will be remembered and what they will leave for future generations.  If you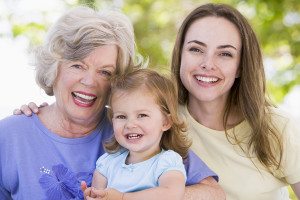 are a family caregiver for a senior, chances are you've had conversations with your loved one about their legacy.  For many, the term "legacy" invokes thoughts of money, property, and material items, but the truth is that a legacy can be so much more.  Your loved one's non-material and non-monetary legacy can be something that is very important to you, your family, and future generations.  August is the perfect month to spend time with your loved one taking about their legacy and taking action to make sure that their legacy is impactful.  Here are just a few things you can do to celebrate this month with your loved one in a very meaningful way.
Making a Difference
Are there ways your loved one has made a difference and continues to work for the greater good today?  Making a difference in the lives of others is one way to leave a legacy.  Setting a good example and being a positive role model is one way your loved one can make a good impression on the younger generation.  If your loved one feels inspired to make a difference, consider looking into volunteer opportunities for seniors in your local area.  Every day, seniors all over the country are helping out and making a difference in their community.  Encourage your loved one to be a part of this good work which will undoubtedly leave a lasting legacy.
Teaching a Skill
Thanks to computers, devices, and other technology, there are many skills and arts that are quickly dying.  Does your loved one have a skill or talent that is useful but quickly disappearing?  Now is the time for them to pass it on!  Encourage your loved one to teach you or your grandchildren their special skill.  Skills like sewing, knitting, calligraphy, and even baking can be fun things for your senior loved one to teach another.
Documenting Memories
One gift that your loved one can give to future generations is the gift of knowing their family history.  Your loved one can share and preserve meaningful memories of the past by writing them down, compiling a scrapbook, or even dictating stories on tape.  These items will be cherished by future generations and they are a great way to ensure that your loved one's stories and memories will never be forgotten.
The staff at Home Care Matters is available to talk with you and your family about all of your needs. Home Care Matters is a home care agency providing quality and affordable

senior care in Gainesville, GA

and the surrounding areas. Call (678) 828-2195 for more information.
Latest posts by superadmin
(see all)