How Can You Make Dental Care Easier for Your Elderly Loved One?
Senior Care in Lawrenceville GA
Managing your elderly loved one's dental care may seem like a simple task, but it can become more difficult as time goes on. Your loved one may become resistant to having help or her needs may become larger than you can handle on your own.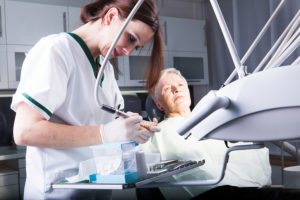 Be Flexible about the Location
Your loved one may have brushed her teeth at her bathroom sink for her entire life, but that doesn't mean that is where she has to brush them now. For a variety of reasons, your loved one might find it painful or difficult to brush her teeth while standing at the bathroom sink now. Try using a bowl at a table along with a glass of water or have your loved one stand at the kitchen sink, which is usually much taller than the bathroom sink.
Make Sure Your Loved One Has Plenty of Light
Lack of proper lighting can make brushing difficult for your elderly loved one. She may not be able to see well enough to put toothpaste on her toothbrush properly or she may have trouble seeing what she's doing. One solution is to improve the lighting in the bathroom, but changing location can help, too. Make sure that wherever your loved one brushes her teeth that she's got plenty of light by which to see.
Demonstrate for Your Loved One or Help Her Brush
If your loved one has difficulty remembering the sequence of events involved in brushing, having you demonstrate or brush with her can help quite a bit. This is also a great way for you to bond with your elderly loved one a bit. Your loved one might need your help loading up her toothbrush or holding it while she starts brushing. Try to let her do what she's able to do on her own, but be ready to pitch in and assist.
Bring in Experienced Help
Some elderly loved ones aren't comfortable with family members helping out with these types of personal care tasks. If this is the case for your loved one, you might want to consider bringing in experienced senior care providers. They can make quick work of helping your loved one with her personal care tasks.
As you and your loved one become more accustomed to her changing dental care needs, it becomes easier for both of you to manage this essential task.
The staff at Home Care Matters is available to talk with you and your family about all of your needs. Home Care Matters is a home care agency providing quality and affordable senior care in Lawrenceville, GA and the surrounding areas. Call (678) 828-2195 for more information.
Latest posts by superadmin
(see all)