Keep Swimming Fun with These Pool Safety Tips for Seniors
Senior Care in Lawrenceville GA
If your senior loved one requires senior care in your home, having a swimming pool can be a great way to help your loved one stay active and healthy. Swimming can often help relieve some of the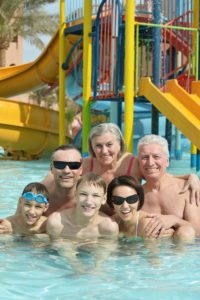 aches and pains that come with aging and it can help improve endurance, flexibility, and strength. However, the pool can be a dangerous place for seniors. Following a few pool safety tips can prevent injuries and drowning in seniors.
Tip #1 – Don't Let Seniors Swim Alone
Make sure you don't allow seniors to swim alone. That way someone is always around if seniors need assistance or if they call for help. Even if you can't always be there to monitor the senior, have an in-home care professional nearby while the senior is swimming to ensure the individual's safety.
Tip #2 – Keep Clutter Away from the Pool
Since many seniors are injured each year from slips and falls, make sure that you keep clutter away from the pool. Access ramps instead of steps can also help to prevent slips and falls when entering and exiting the pool.
Not only should you keep the pool deck free from clutter, you should also keep the pool itself free from clutter. When the senior is swimming, take out rafts, pool tools, and any other objects not in use. This way the senior can easily move around the pool without difficulty.
Tip #3 – Ensure Sunscreen is Used
Seniors have fragile skin, so it's important to make sure they are wearing sunscreen if they are using an outdoor pool. You or a senior care professional can help the senior apply a quality, waterproof sunscreen before they enter the pool to prevent burns. Make sure sunscreen is reapplied regularly if they are in the pool for a significant amount of time.
Tip #4 – Consider a Pool Alarm
A pool alarm is always a great investment, and it's especially essential if you have a senior in the home suffering from Alzheimer's disease or dementia. You don't want your elderly loved one to wander into the pool area without having supervision. A pool alarm can let you know when someone enters the pool area so you are instantly alerted. You may even want to lock the access point to the pool so the senior cannot enter it alone.
Tip #5 – Learn CPR
Even though your elder care professional probably knows how to administer CPR, it's a good idea for you to learn CPR as well. This way, if there is a pool accident, you're prepared with the skills you need to administer CPR if necessary.
Getting your senior into the pool is a great way to help them stay active and healthy. However, the pool does have some dangers that you must keep in mind. Make sure you use these tips to keep your senior safe while they enjoy some fun in the pool.
The staff at Home Care Matters is available to talk with you and your family about all of your needs. Home Care Matters is a home care agency providing quality and affordable
senior care in Lawrenceville, GA

and the surrounding areas. Call (678) 828-2195 for more information.

Source

http://www.poolsafely.gov/pool-spa-safety/staying-safe-pools-spas/residential-swimming-pools/
Latest posts by superadmin
(see all)