Strategies for Communicating Better with Senior Care Providers in Gainesville, GA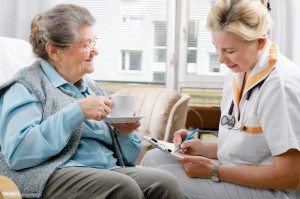 In the world of senior care, communication is extremely important to giving and receiving the best possible care. Communication is vital to building healthy, trusting relationships. Consider the following strategies for establishing better communication with senior care providers.
Be honest and open

– If you want

the caregiver to feel comfortable communicating with you,

then you must be willing to do the same. Be honest and open about what you are looking for regarding your loved one's health.

Listen attentively

–

Part of good communication is being able to listen as well.

Make eye contact to show that you are engaged in active listening.

Occasional nodding or rewording questions shows that you are involved in the conversation. The more engaged you are, the better you will have an understanding of what you are being told.

Take notes on the information they provide regarding your loved one.

Be organized

– Having everything organized

and easily accessible that the in-home care provider will need allows for the best possible care. Have emergency contact information and the number for all the doctors who interact with your loved one on hand. Go over where you keep copies of important forms or papers.

Be respectful of a caregiver's time

– Caregivers who provide

senior home services

have a life and their own responsibilities too outside of working with your loved one. If you would like to talk with your caregiver and their shift is over, be respectful and ask if she can spare some ti

me or when would be a good time.
This doesn't mean that you have to wait to discuss something they did that you don't understand or are uncomfortable with. If you notice a change in your loved one's behavior, whether it is positive or negative, don't hesitate to discuss it with the caregiver.
Home care services are designed to benefit you and your loved one in a home setting. Whether you need full time senior care, live-in care, or someone on a part-time basis, caregivers are there to help you handle everyday tasks or responsibilities that your loved one can no longer perform on their own.
A caregiver can make a big difference in your life and that of your loved one. They can reduce your stress and ease your mind. Good communication is essential in order to obtain the most productive and effective form of senior care.
The caregivers at Home Care Matters are available to talk with you and your family about all of your elder care needs. Home Care Matters is a home care agency providing quality and affordable senior care in Gainesville, GA and the surrounding areas. Call (678) 828-2195 for more information.
Latest posts by superadmin
(see all)