The Focus of Elder Care is the Senior, but It's Also Important to Ensure Safety for the Caregiver
Elder Care in Cumming GA
Looking after an elderly loved one may feel like a simple job, especially in the beginning. For the nearly 44 million Americans who are taking care of an elderly or disabled family member, according to the AARP, safety and security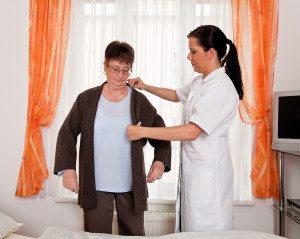 tend to be top priorities.  The most important aspect when providing any type of assistance to another individual is usually safety first. Most family members will readily admit that they just want their loved one to be safe and secure within the comfort of their own home and that's why they decided to take on this very important role.
While ensuring comfort, security, and as many benefits as possible for the elderly individual, it's important not to neglect safety for the caregiver as well.  Many experienced elderly home care providers who are hired through an agency can often attest to just how important it is to focus on safety for the caregiver as well as the senior client. Family members often become so focused and fixated on ensuring that their elderly loved one is safe and out of harm's way that they actually neglect their own well-being.
For example, a family member who is incredibly busy already, either working a full-time job, several part-time jobs, raising a family of their own, or taking on numerous other responsibilities, will likely have limited time to devote to caregiving.  With less time, it's common for people to drive faster than they should, roll through stop signs, start texting while driving to save time, and doing other activities that put themselves and others at risk.
If the caregiver is responsible for helping to do the laundry and take care of other tasks, he or she may be running up and down the stairs, putting themselves at an increased risk for tripping, falling, and becoming injured.  Preparing a meal in the kitchen in a hurry is also a recipe for potential disaster. Not paying attention to what a person is cutting could lead to a nick from the knife, and even more serious injuries.
April 28th is World Day for Safety and Health at Work. As such, any family caregivers who are putting themselves at risk simply because they don't have a lot of time to devote to caring for their elderly loved one should seriously consider other elder care options. One of the best options is to hire a professional, experienced caregiver through an agency in the area.
Home Care Matters is a home care agency providing quality and affordable elder care services in Cumming, GA and the surrounding areas. Call (678) 828-2195 for more information.
Latest posts by superadmin
(see all)