Tips on choosing a pet for Seniors
Senior Care in Gainesville GA
Pets have been proven to increase physical activity, social interaction and to reduce stress and blood pressure in seniors. In fact, acquiring a new pet can encourage seniors to read up on the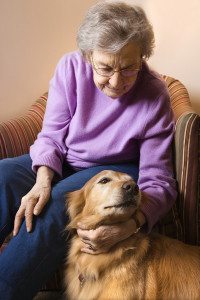 animal, which is extremely mentally stimulating and important for senior's mental functioning.
However, mental stimulation is not the only benefit offered to seniors when they own a pet.   In fact, there are quite a few additional, intangible benefits, as well. Dogs, as well as other pets, live for the here and now. When a senior owns an animal with that sense of now, it will start to rub off on them. Owning a pet can also help to reduce cases of loneliness and depression. Many older pet owners have expressed how lonely they felt prior to owning a pet.
In addition, seniors are not the only ones who benefit from pet ownership. The other winner in this scenario is the animal. This is especially true when the senior adopts an older pet. This allows the pet to live in a home where they receive constant attention and companionship.
Some tips to help in-home care providers find the right pet for a senior include:
There is not a single right pet for a senior, so assistance in making this decision may be helpful to find the right match.
Seniors set in their ways may not be ideal candidates for pet ownership.
Dogs can be the ideal companion for seniors suffering from disabilities.
Find out from the senior whether they would prefer a dog or cat.  Both are beneficial to the senior's life.
Puppies and kittens may not be the right fit for elderly pet owners since they often require excessive care in the beginning.
Choose a pet that has a good temperament.
Choose a healthy pet rather than a pet with special needs.
Be sure the senior is able to financially support the pet.
While two pets can keep each other company, one is usually enough for a senior.
Getting the pet
While there are a number of breeders that can provide a pet for seniors, it may also be a good idea to visit a shelter. In many cases, the senior will be able to get a pet for less and have the advantage of rescuing it from the possibility of euthanasia.
There is no question that pets can be wonderful companions for seniors. It is also a mutually beneficial relationship. Senior care providers can take the senior to find the dog or cat that is right for them and likely see how young and active the senior really is. This will help the senior remain happy and healthy much longer during their aging years.
The staff at Home Care Matters is available to talk with you and your family about all of your needs. Home Care Matters is a home care agency providing quality and affordable senior care services in Gainesville, GA and the surrounding areas. Call (678) 828-2195 for more information.
Source
http://www.petpartners.org/page.aspx?pid=312
http://www.everydayhealth.com/longevity/emotional-wellness/pet-therapy.aspx
Latest posts by superadmin
(see all)