Alzheimer's & Dementia Home Care
Home Care Matters is an Aging In Place provider of care services to (primarily) seniors in their home environment.  We allow them to remain in their homes where they want to be; happily, safely, and independently, so they can age in place with dignity and grace.
Our families trust us with the care of their loved ones because we can give them custom, flexible options with a local advantage, as an independent, community-based business in their neighborhood.
Our clients, families their physicians, and our industry partners all say they are confident they'll get hands-on, sensitive services, a professional attitude and staff, transparency, and the trust we build with their family when they need it most.
Our caregivers are Certified Nursing Assistants (CNA's) or Personal Care Assistants (PCA's) who are certified by the State of Georgia's experience, testing and skills requirements. They also undergo additional programs and certifications that must exceed our high level of requirements and expectations before being accepted as part of our team. We hire based on a skill set and passion for people, aside from just a "warm body".
Alzheimer's is a type of dementia that causes problems with memory, thinking and behavior. Symptoms usually develop slowly and get worse over time, becoming severe enough to interfere with daily tasks.
Can a Person with Alzheimer's or Dementia Live at Home?
Yes. With the right supportive care, many people with Alzheimer's and other forms of dementia can age in place and live at home.
"Many people with Alzheimer's continue to live successfully on their own during the early stage of the disease…[You should] arrange for someone to help you with housekeeping, meals, transportation, and daily chores." – Alzheimer's Association
Alzheimer's and Dementia Basics
Dementia & Alzheimer's Disease Care at Home:
If you or an aging loved-one are experiencing memory loss issues, dementia, or Alzheimer's related challenges, we can help! Call today.
Alzheimer's is the most common form of dementia, a general term for memory loss and other cognitive abilities serious enough to interfere with daily life. Alzheimer's disease accounts for 60 to 80 percent of dementia cases.
Alzheimer's is not a normal part of aging. The greatest known risk factor is increasing age, and the majority of people with Alzheimer's are 65 and older. But Alzheimer's is not just a disease of old age. Approximately 200,000 Americans under the age of 65 have younger-onset Alzheimer's disease (also known as early-onset Alzheimer's).
Alzheimer's worsens over time. Alzheimer's is a progressive disease, where dementia symptoms gradually worsen over a number of years. In its early stages, memory loss is mild, but with late-stage Alzheimer's, individuals lose the ability to carry on a conversation and respond to their environment. Alzheimer's is the sixth leading cause of death in the United States. Those with Alzheimer's live an average of eight years after their symptoms become noticeable to others, but survival can range from four to 20 years, depending on age and other health conditions
Alzheimer's has no current cure, but treatments for symptoms are available and research continues. Although current Alzheimer's treatments cannot stop Alzheimer's from progressing, they can temporarily slow the worsening of dementia symptoms and improve quality of life for those with Alzheimer's and their caregivers. Today, there is a worldwide effort under way to find better ways to treat the disease, delay its onset, and prevent it from developing.
Alzheimer's Care Services are for those with needs on a basic level. These services support quality of life through services focused on support and stimulation, rather than hands-on care. These services provide companionship, respite, encouragement and light housekeeping.
Our clients that benefit from these services are often the elderly, new and expectant parents, disabled individuals and those transitioning from a hospital or medical facility to home.
Alzheimer's Home Care Services:
Monitoring Nutrition
Light Housekeeping
Meal Planning, Preparation & Clean-Up
Assistance with Laundry & Ironing
Assistance with Grocery Shopping
Changing Linens
Transportation & Errands
Dry Cleaning Drop-Off & Pick-Up
Mobility Assistance
Medication & Scheduling Reminders
Escort to Religious Services
Prescription Drop-Off/Pick-Up
Aid with Reading
Taking Out Garbage
Home Care Matters makes it easy to get started with Senior Home Care Services in the Flowery Branch, GA area.
We love helping families find the right senior care solution. And those families love us. But don't take our word for it, read our testimonials!
Providing exceptional Alzheimer's and Dementia home care services in Flowery Branch, Braselton, Buford, Cumming, Dacula, Duluth, Gainesville, Johns Creek, Lawrenceville, Oakwood, Sugar Hill, Suwanee, Barrow County, Forsyth County, Gwinnett County, Hall County, Jackson County, North Fulton County, and surrounding communities.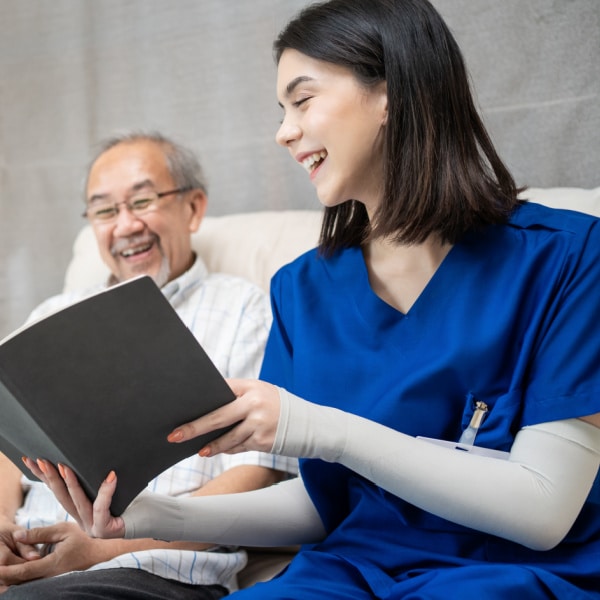 How Do I Know if My Loved One Needs Dementia Care at Home?

Many signs may indicate when your loved one needs Alzheimer's care at home. If you have noticed or experienced any of the following, your loved one may need more care than you can provide.
They Can't Complete Tasks of Daily Living
If your loved one isn't taking care of themselves as well as they used to, they may need memory care at home. Look for signs like:
Body odor
Dramatic change in grooming habits
Incontinence, frequent trips to the bathroom, or failing to go to the bathroom at all
Unexplained weight loss
Foul-smelling home
Very bad breath or dental problems
Appearing overwhelmed by daily activities
They Start Making Dangerous Decisions

Alzheimer's and other types of dementia take away a person's critical thinking skills, putting them at risk of being taken advantage of, injuring themselves, wandering away from home, or even accidental death. Warning signs include:
Bad short-term memory such as forgetting to turn off the stove or lock the doors.
Frequent wandering, being confused about where they are or failing to answer the phone.
Poor judgment such as allowing strangers into their home or giving away all their money.
Not understanding how household objects work, like what to do if the smoke detector goes off or how to call for help.
Dangerous driving, even after they've been told to stop driving.
Unusual or dangerous behavior like shoplifting or engaging is sexually inappropriate behavior.
You Are Experiencing Caregiver Burnout

It's natural to want to care for your loved one all by yourself, but it is physically and emotionally demanding. If you're experiencing burnout, you can't care for your loved one as well. You may also feel guilty for being burned out, leading to more burnout. It's OK to ask for help caring for your loved one.
Their Health Is Declining

If your loved one isn't caring for themselves the way they used to, they may show signs like:
Unexplained weight loss
Taking too much or too little of their medications
Inexplicable bruises, breaks, or other injuries
Lack of food in the kitchen
Sunken or hunched posture
Neglected personal hygiene
Your Instincts Say They Need it
Trust your gut. If you think your loved one needs Alzheimer's care at home, they probably do. Plus, it's better for your loved one with dementia to have too much help rather than not enough.