Veterans Assist & Veterans Care
Home Care Matters is an Aging In Place provider of care services to (primarily) seniors in their home environment.  We allow them to remain in their homes where they want to be; happily, safely, and independently, so they can age in place with dignity and grace.
Our families trust us with the care of their loved ones because we can give them custom, flexible options with a local advantage, as an independent, community-based business in their neighborhood.
Our clients, families their physicians, and our industry partners all say they are confident they'll get hands-on, sensitive services, a professional attitude and staff, transparency, and the trust we build with their family when they need it most.
Our caregivers are Certified Nursing Assistants (CNA's) or Personal Care Assistants (PCA's) who are certified by the State of Georgia's experience, testing and skills requirements. They also undergo additional programs and certifications that must exceed our high level of requirements and expectations before being accepted as part of our team. We hire based on a skill set and passion for people, aside from just a "warm body".
Qualifying For Aid and Attendance
Applying for and maintaining your veterans Aid and Attendance pension can be confusing and time-consuming.
Simplifying VA Aid and Attendance Pension Eligibility
A simple way to determine if you are eligible is to start with the three main qualifications or "must-haves" for the VA pension with Aid and Attendance: military, medical and money.
We love helping families find the right senior care solution. And those families love us. But don't take our word for it, read our testimonials!
Did you serve during one of the VA Defined War Periods*
World War II: December 7, 1941-December 31, 1946
Korean Conflict: June 27, 1950-January 31, 1955
Vietnam Era: August 5, 1964-May 7, 1975 .
Veterans who served February 28, 1961-August 5, 1964, must have served "in country" (Vietnam).
Persian Gulf War: August 2, 1990- date to be prescribed by Presidential Proclamation or law. Must have served active duty for two years.
About a Veterans Pension with the Aid and Attendance benefit
In 1952 Congress passed Title 38 of the United States Code authorizing certain benefits for veterans. One of these benefits is the Non-Service Connected Pension, with "Aid and Attendance." It is also known as simply "Aid and Attendance" or "Veterans Aid and Attendance benefit" or "Aid and Attendance Pension" or  "Improved Pension with Aid and Attendance."
In March 1989, during President George H. W. Bush's presidency, the Veterans Administration (VA) was elevated to a cabinet-level executive department. The Veterans Administration was then renamed the Department of Veterans Affairs and continued to be known as VA.
Even though the pension has been around for more than 60 years, very few people know about it or understand how it works.
You may have what it takes to be eligible for the "Aid and Attendance" benefit. If you would like to use your VA Aid and Attendance funds primarily for home care, call us for more information.
Providing exceptional In-Home Veterans' care services in Flowery Branch, Braselton, Buford, Cumming, Dacula, Duluth, Gainesville, Johns Creek, Lawrenceville, Oakwood, Sugar Hill, Suwanee, Barrow County, Forsyth County, Gwinnett County, Hall County, Jackson County, North Fulton County, and surrounding communities.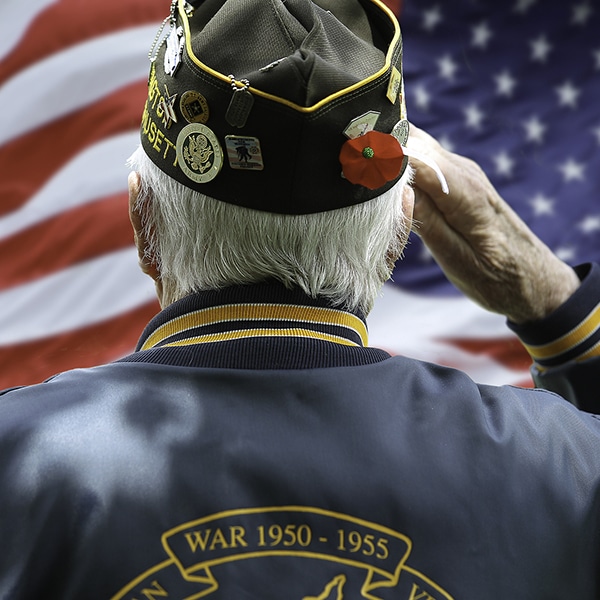 Do You Meet the "3-Ms" to Qualify?
To qualify a veteran or surviving spouse will need to meet the following criteria:
1) Military: Are you a veteran or the surviving spouse of a veteran who served at least 90 days on active duty, at least one day during wartime*, with an honorable discharge? (Persian Gulf War veterans must have two years of active duty.)
2) Medical: Do you have a non-service connected medical condition causing you to need assistance with activities of daily living?
3) Money: Do you have limited income and assets? (Your home and car are exempt.)
Home Care Matters makes it easy to get started with Senior Home Care Services in the Flowery Branch, GA area.