Home Care Matters is an Aging In Place provider of care services to (primarily) seniors in their home environment.  We allow them to remain in their homes where they want to be; happily, safely, and independently, so they can age in place with dignity and grace.
Our families trust us with the care of their loved ones because we can give them custom, flexible options with a local advantage, as an independent, community-based business in their neighborhood.
Our clients, families their physicians, and our industry partners all say they are confident they'll get hands-on, sensitive services, a professional attitude and staff, transparency, and the trust we build with their family when they need it most.
Our caregivers are Certified Nursing Assistants (CNA's) or Personal Care Assistants (PCA's) who are certified by the State of Georgia's experience, testing and skills requirements. They also undergo additional programs and certifications that must exceed our high level of requirements and expectations before being accepted as part of our team. We hire based on a skill set and passion for people, aside from just a "warm body".
Personal Care at Home
Does your loved one seem to be struggling to care for themselves lately? Have you been caring for your loved one, but you need a little more help? Are you recovering from an injury and need some help around your house? Personal care at home may be the perfect option.
What is personal care at home? Why is personal care important? What are the benefits of personal care at home? How can you tell if your loved one needs personal care? Here are the answers to these questions and other things you need to know about personal care at home.
What Is Personal Care at Home?
Also known as non-medical care, non-skilled care, or companion care, personal care at home helps people to age in place with assistance rather than moving into an assisted living facility or nursing home. Personal care can help with tasks such as activities of daily living, housekeeping, running errands, and more.
-Most of the time, personal care at home costs less than an assisted living facility or a nursing home – sometimes significantly less, especially if your loved one only needs assistance a few hours a day.
Why Is Personal Care Important?
Personal care is critical for a person's physical and mental health. Failing to eat properly can lead to weight loss and illness. Failing to clean the home regularly could lead to diseases. Being unable to shower or get dressed can be damaging to your mental health. When a person can no longer perform their own personal care tasks, they need somebody to help them.
While many people associate personal care with inpatient facilities, you or your loved one may be able to get personal care at home, which tends to be better physically, emotionally, and financially than moving to a retirement home or nursing facility.
According to Hana Ames with Medical News Today [1]:
"Good personal hygiene involves keeping all parts of the external body clean and healthy. It is important for maintaining both physical and mental health. In people with poor personal hygiene, the body provides an ideal environment for germs to grow, leaving it vulnerable to infection. On a social level, people may avoid a person with poor personal hygiene, which may result in isolation and loneliness."
What Types of Services Are Included With Personal Care at Home?
Personal care services may vary a bit from place to place, but they will generally include:
Transfers between a bed, wheelchair, toilet or commode, and other seats

Help with bathing, eating, personal hygiene, and hair care

Assistance with toileting, urinals, bedpans, or commodes

Bladder or bowel incontinence care

Positioning the patient in their wheelchair, bed, or other chairs

Emptying catheter or ostomy bags

Encouraging the patient to perform normal body movements and follow prescribed physical therapy or exercise
What Is the Difference Between Personal Care and Companion Care?
Companion care, while extremely important, does not provide the same assistance with activities of daily living (ADLs) that personal care provides. Companion care provides services such as light housekeeping, cooking, and talking to or playing games with the patient, while personal care provides more hands-on help.
However, don't discount the importance of companionship. According to the Centers for Disease Control and Prevention [2]:
"Loneliness and social isolation in older adults are serious public health risks affecting a significant number of people in the United States and putting them at risk for dementia and other serious medical conditions…Social isolation significantly increased a person's risk of premature death from all causes, a risk that may rival those of smoking, obesity, and physical inactivity."
Home Care Matters makes it easy to get started with Senior Home Care Services in the Flowery Branch, GA area.
We love helping families find the right senior care solution. And those families love us. But don't take our word for it, read our testimonials!
Providing exceptional Personal Home Care services in Flowery Branch, Braselton, Buford, Cumming, Dacula, Duluth, Gainesville, Johns Creek, Lawrenceville, Oakwood, Sugar Hill, Suwanee, Barrow County, Forsyth County, Gwinnett County, Hall County, Jackson County, North Fulton County, and surrounding communities.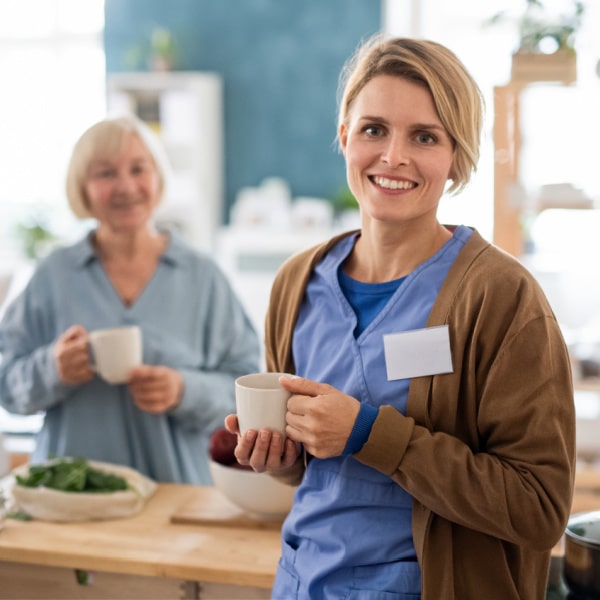 What Are the Benefits of Personal Care at Home?
Personal care at home has many benefits, including:
Ability to age in place. Personal care is often enough to let an elderly person live comfortably and safely in their own home for years without needing to go to a nursing home or assisted living facility.
Enhanced quality of life. When seniors can stay in their own home and maintain a degree of independence while still getting the care they need, they can have a significantly better quality of life.
Personalized needs. Your loved one gets exactly the care they need. They aren't left alone for long stretches if they need a lot of help, or they aren't bothered by constant attention when they only need a little help here and there.
Lower cost. Most of the time, personal care at home costs less than an assisted living facility or a nursing home – sometimes significantly less, especially if your loved one only needs assistance a few hours a day.
How to Tell When Your Loved One May Need Personal Care
Some red flags that may indicate your loved one needs personal care at home include [3]:
Changes in personal hygiene, appearance, or weight gain or loss may indicate that your loved one is struggling to care for themselves as well as they once did.
Car accidents, tickets, or losing their driver's license may mean a loss of independence since your loved one will struggle to get to appointments and run errands if they can't drive themselves.
Unfinished business, such as unpaid bills, may indicate cognitive changes that are impairing your loved one's ability to care for themselves.
Falls or falling hazards inside the home pose a serious threat to safety. Personal care can help your loved one get around their home more safely.
Isolation can lead to loneliness, depression, more health problems, and a decreased quality of life. 
What to Look for When Hiring a Personal Care Provider
Are you concerned about trying to find the right personal care provider? Here are some things to consider as you embark on your search for the perfect provider [4]:
Is the agency licensed by the state?
What type of employee screening does the agency do?
Are caregivers accredited, insured, and licensed?
Does the agency's staff seem helpful and friendly?
How do they handle billing and expenses?
How much do the services cost, and what's included?
Will you receive a written care plan?
How are problems resolved?
What policies are in place for emergencies?
Hiring Private Duty vs Agency Pros & Cons
There are advantages and disadvantages to hiring a freelance caregiver.
Families often cite lower cost as the major benefit. However, when hiring a freelance caregiver, bear in mind costs related to being an employer. Employer taxes, insurance and Worker's Compensation will need to be paid. Tax withholdings and payroll tax reports will have to be made.
In most cases, freelance caregivers do not qualify as "Independent Contractors" according to tax and labor laws. Trying to save costs while violating tax and labor laws can put your family at great risk. Fines can be levied and back taxes plus penalties can accrue. Work related injuries might not be covered by your homeowner's insurance. Live-in caregivers who use your home as their main residence may be considered a tenant. This may complicate things should you need to terminate this person's service. You should always consult with tax insurance and legal professionals if you choose to hire a freelance caregiver.
Another very important aspect of hiring a freelance caregiver is safety. Has this person been convicted of a crime? What is their work history?
Be sure to have the applicants list their experience and training. Check their references. Employee application forms are available at office supply stores and can be used for each potential employee. It is also important to verify that this person can legally work in the United States.
A form called the I-9 should be kept on file for the employee. Fines ranging from $250 to $2,000 can be imposed on those who hire illegal immigrants.
Also, be sure to have a written agreement with the caregiver to avoid potential wage and labor disputes. (source Caregiver.com)
References
Hana Ames, Why Is Personal Hygiene Important? Medical News Today, https://www.medicalnewstoday.com/articles/personal-hygiene
Loneliness and Social Isolation Linked to Serious Health Conditions, CDC, https://www.cdc.gov/aging/publications/features/lonely-older-adults.html
Amy Goyer, 5 Signs Your Loved One May Need Caregiving Support, AARP, https://www.aarp.org/caregiving/basics/info-2017/neglect-warning-signs-ag.html
Home Care Services: Questions to Ask, Mayo Clinic, https://www.mayoclinic.org/healthy-lifestyle/healthy-aging/in-depth/home-care-services/art-2004460