Home Care Matters is an Aging In Place provider of care services to (primarily) seniors in their home environment.  We allow them to remain in their homes where they want to be; happily, safely, and independently, so they can age in place with dignity and grace.
Our families trust us with the care of their loved ones because we can give them custom, flexible options with a local advantage, as an independent, community-based business in their neighborhood.
Our clients, families their physicians, and our industry partners all say they are confident they'll get hands-on, sensitive services, a professional attitude and staff, transparency, and the trust we build with their family when they need it most.
Our caregivers are Certified Nursing Assistants (CNA's) or Personal Care Assistants (PCA's) who are certified by the State of Georgia's experience, testing and skills requirements. They also undergo additional programs and certifications that must exceed our high level of requirements and expectations before being accepted as part of our team. We hire based on a skill set and passion for people, aside from just a "warm body".
Companion Care Helps Seniors Thrive at Home
Companion care can be an invaluable resource for seniors who have difficulty performing basic tasks or activities at home. Whether it's helping out around the house by doing laundry, grocery shopping, making meals or taking a walk outside—at Home Care Matters, we're always available to step in whenever needed during tough times so that our client is able to maintain their independence as long as possible.
With companion care at home, aging adults can keep their routines and continue to live independently in their own homes.
If you're looking for a caregiver to help with everyday tasks like cooking, cleaning and running errands but not need the extra care that comes with an elderly loved one who might be bedridden or incontinent, companion caregiving is your best bet.
What Is Companion Care?
It has been estimated that there are more than 18 million people in the United States who need some form of assistance with their daily activities. 
This is an increasing trend as baby boomers continue to age and new generations grow up expecting a high standard of living even if they no longer work outside the home, among other factors. 
Companion care services offer essential help for those who can't get around on their own without aid or struggling after long periods sitting down because it provides them companionship when needed – this helps give family caregivers peace of mind knowing someone will be checking up on them throughout the day.
Caregivers help to make daily living easier and safer for the care recipients. Some of these ways are performing errands, like grocery shopping or picking up medications, on their behalf; other times they will plan and prepare regular meals as well as light housekeeping duties. 
Caregivers are there to improve quality of life in other ways. They act as partners for favorite hobbies and activities, accompany clients on appointments and social outings, and engage in friendly conversations with their loved ones.
The isolation of aging is not just a feeling, it's an illness. Companion caregiving provides isolated seniors with social interaction and regular companionship, ending the cycle of senior isolation which can lead to health complications.
Companion Care vs. Personal Care
When you need home care for your aging loved one, it can be a challenge to decide what type of service will work best.
Companion care services tend to focus on social needs while personal care services emphasize medical and physical needs.
When choosing elder care, the difference between companion and personal is an important consideration in the decision process as they both provide different benefits based on a person's individualized requirements. 
Home care companions can do your laundry, make you a delicious meal that's not just microwaved leftovers from the night before, and help out with errands like grocery shopping. They also provide emotional support to those who are grieving or struggling in their day-to-day lives due to illness or disability.
Personal care is an area of service that seeks to help people with basic needs, like personal hygiene. It can also provide physical assistance in the form of helping a person get up from their seat, grooming, eating, dressing, and toileting. 
Many older adults can age in place with the help of companion caregiving. However, seniors who require advanced care or physical assistance may need personal care to live at home safely.
Providing exceptional In-Home Companion Care services in Flowery Branch, Braselton, Buford, Cumming, Dacula, Duluth, Gainesville, Johns Creek, Lawrenceville, Oakwood, Sugar Hill, Suwanee, Barrow County, Forsyth County, Gwinnett County, Hall County, Jackson County, North Fulton County, and surrounding communities.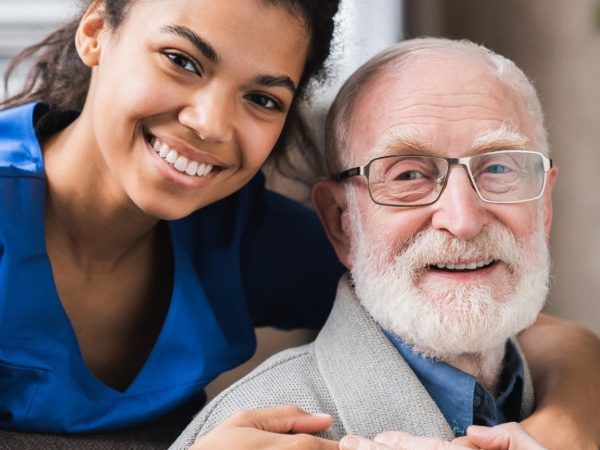 Does Medicare Pay for Companion Care at Home?
If your family member needs only assistance with homemaker or personal services, or companion care, Medicare will not cover the cost.
Medicare doesn't pay for:
24-hour-a-day care at home
Meals delivered to your home
Homemaker services (like shopping, cleaning, and laundry), when this is the only care you need
Custodial or personal care (like bathing, dressing, or using the bathroom), when this is the only care you need
How Much Does In-Home Companion Care Cost?
According to the 2021 Genworth Cost of Care Study, the average national median cost for companion care was $59,488 ANNUALLY. The median cost for an HOURLY COMPANION CARE is $26.00. The average national median cost for a certified nursing assistant/home health aide care was $61,776 ANNUALLY. The median cost for an HOURLY, CERTIFIED NURSING ASSISTANT/HOME HEALTH AIDE CARE is $27.00.
Genworth calculates average median rates based on 44 hours per week. If your loved one only requires the help of a companion for a few hours per day or week, your costs may be significantly lower than these estimates.
For a clearer picture of your potential costs, determine your loved one's needs and to speak with a care professional at Home Care Matters, please contact us to discuss your specific care needs or use our pricing tool, HomeCareQuote to develop your personalized and custom, needs-based quote.
Home Care Matters makes it easy to get started with Senior Home Care Services in the Flowery Branch, GA area.
We love helping families find the right senior care solution. And those families love us. But don't take our word for it, read our testimonials!