Arthritis Sufferers Home Care
Home Care Matters is an Aging In Place provider of care services to (primarily) seniors in their home environment.  We allow them to remain in their homes where they want to be; happily, safely, and independently, so they can age in place with dignity and grace.
Our families trust us with the care of their loved ones because we can give them custom, flexible options with a local advantage, as an independent, community-based business in their neighborhood.
Our clients, families their physicians, and our industry partners all say they are confident they'll get hands-on, sensitive services, a professional attitude and staff, transparency, and the trust we build with their family when they need it most.
Our caregivers are Certified Nursing Assistants (CNA's) or Personal Care Assistants (PCA's) who are certified by the State of Georgia's experience, testing and skills requirements. They also undergo additional programs and certifications that must exceed our high level of requirements and expectations before being accepted as part of our team. We hire based on a skill set and passion for people, aside from just a "warm body".
What is Arthritis?
Arthritis is very common but is not well understood. Actually, "arthritis" is not a single disease; it is an informal way of referring to joint pain or joint disease. There are more than 100 different types of arthritis and related conditions. People of all ages, sexes and races can and do have arthritis, and it is the leading cause of disability in America. More than 50 million adults and 300,000 children have some type of arthritis. It is most common among women and occurs more frequently as people get older.
Common arthritis joint symptoms include swelling, pain, stiffness and decreased range of motion. Symptoms may come and go. They can be mild, moderate or severe. They may stay about the same for years, but may progress or get worse over time. Severe arthritis can result in chronic pain, inability to do daily activities and make it difficult to walk or climb stairs. Arthritis can cause permanent joint changes. These changes may be visible, such as knobby finger joints, but often the damage can only be seen on X-ray. Some types of arthritis also affect the heart, eyes, lungs, kidneys and skin as well as the joints.
Different Types of Arthritis
Degenerative Arthritis
Osteoarthritis is the most common type of arthritis. When the cartilage – the slick, cushioning surface on the ends of bones – wears away, bone rubs against bone, causing pain, swelling and stiffness. Over time, joints can lose strength and pain may become chronic. Risk factors include excess weight, family history, age and previous injury (an anterior cruciate ligament, or ACL, tear, for example).
When the joint symptoms of osteoarthritis are mild or moderate, they can be managed by:
balancing activity with rest
using hot and cold therapies
regular physical activity
maintaining a healthy weight
strengthening the muscles around the joint for added support
using assistive devices
taking over-the-counter (OTC) pain relievers or anti-inflammatory medicines
avoiding excessive repetitive movements
If joint symptoms are severe, causing limited mobility and affecting the quality of life, some of the above management strategies may be helpful, but joint replacement may be necessary.
Osteoarthritis can be prevented by staying active, maintaining a healthy weight, and avoiding injury and repetitive movements.
We love helping families find the right senior care solution. And those families love us. But don't take our word for it, read our testimonials!
Providing exceptional Arthritis Home Care services in Flowery Branch, Braselton, Buford, Cumming, Dacula, Duluth, Gainesville, Johns Creek, Lawrenceville, Oakwood, Sugar Hill, Suwanee, Barrow County, Forsyth County, Gwinnett County, Hall County, Jackson County, North Fulton County, and surrounding communities.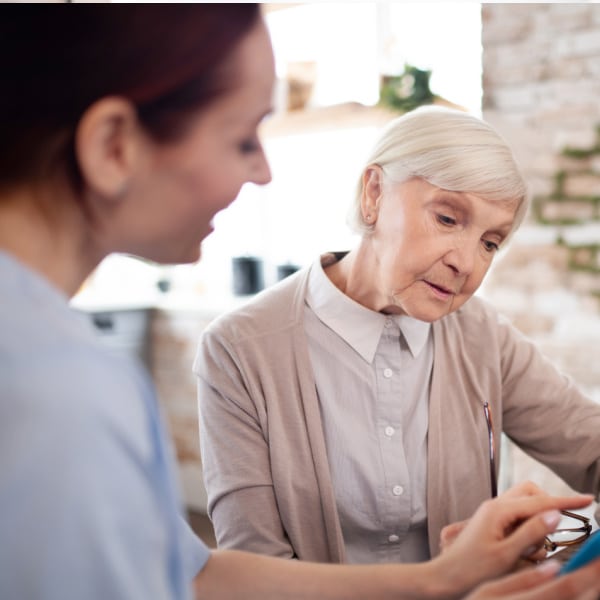 Home Care Matters makes it easy to get started with Senior Home Care Services in the Flowery Branch, GA area.
Inflammatory Arthritis
A healthy immune system is protective. It generates internal inflammation to get rid of the infection and prevent disease. But the immune system can go awry, mistakenly attacking the joints with uncontrolled inflammation, potentially causing joint erosion and may damage internal organs, eyes and other parts of the body. Rheumatoid arthritis and psoriatic arthritis are examples of inflammatory arthritis. Researchers believe that a combination of genetics and environmental factors can trigger autoimmunity. Smoking is an example of an environmental risk factor that can trigger rheumatoid arthritis in people with certain genes.
With autoimmune and inflammatory types of arthritis, early diagnosis and aggressive treatment is critical. Slowing disease activity can help minimize or even prevent permanent joint damage. Remission is the goal and may be achieved through the use of one or more medications known as disease-modifying anti-rheumatic drugs (DMARDs). The goal of treatment is to reduce pain, improve function, and prevent further joint damage.
What Can Be Done About Arthritis?
There are many things that can be done to preserve joint function, mobility, and quality of life. Learning about the disease and treatment options, making time for physical activity and maintaining a healthy weight are essential. Arthritis is a commonly misunderstood disease. The Arthritis Foundation is the only nonprofit organization dedicated to serving all people with arthritis. Its website, arthritis.org, has many resources for learning about arthritis, practical tips for daily living and more.
Home Care Services for Arthritis
Arthritis Home Care Services are for those with needs on a basic level. These services support quality of life through services focused on support and stimulation, rather than hands-on care. These services provide companionship, respite, encouragement and light housekeeping.
Our clients that benefit from these services are often the elderly, new and expectant parents, disabled individuals and those transitioning from a hospital or medical facility to home.
Monitoring Nutrition
Light Housekeeping
Meal Planning, Preparation & Clean-Up
Assistance with Laundry & Ironing
Assistance with Grocery Shopping
Changing Linens
Transportation & Errands
Dry Cleaning Drop-Off & Pick-Up
Mobility Assistance
Medication & Scheduling Reminders
Escort to Religious Services
Prescription Drop-Off/Pick-Up
Aid with Reading
Taking Out Garbage