5 Tips to Plan Activities While Keeping Seniors in Mind
Senior Care in Lawrenceville GA
The holiday season is full of festivities and joy for most; however, this time can sometimes be lonely and painful for older adults. The loss of loved ones, changes in life and a loss of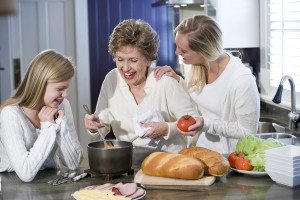 independence are just a few of the reasons that some seniors may not be looking forward to the upcoming holiday season. Being with friends and family during the holidays is important for everyone.  Some tips to get seniors more involved during this time of year can be found here.
1.  Take a trip down memory lane
The holidays are one of the best times to reminisce with a senior loved one. Seniors have all types of wealth and knowledge to share. Be encouraging and let them share their stories and include the younger generation so they can pass these stories on. It is also a great time to look through old photo albums and family videos.
2.  Create something together
Another way to spend time with seniors during the holidays is to get crafty. Take into consideration the activities that are most appropriate for a senior loved one and avoid craft projects that may cause frustration or be too challenging for the senior to complete. Making a garland chain or painting a salt dough ornament are a couple of easy craft projects to try.
3.  Spend some time in the kitchen
Holiday cooking and baking are a fun activities that can be enjoyed by people of all ages. Even if a senior has a hard time standing for long periods of time, they can be included by taking part in prep work and cookie decorating that can be done while sitting at the table and enjoying a cup of warm cocoa or hot tea.
4.  Take a tour of the neighborhood
There is no question that it is important for seniors to remain active during the holidays, but this can be more difficult when it gets cold out. If the weather is permitting, take some time to walk outside and enjoy the lights or visit a shopping center to see the window displays.
5. Hire elder care during the holidays
For families with young children or with many activities going on, it can be difficult to include the senior in everything planned. If this is the case, it is a good idea to hire an elder care provider who can provide companionship during the day or night when family members are unable to be around. This can help prevent the winter blues and provide seniors with the companionship they desire this time of year.
Taking the time to ensure that a senior loved ones feel included during the holidays is essential. Don't leave them out but rather find ways to include them in the festivities. Doing this will help ensure they avoid the holiday blues.
The staff at Home Care Matters is available to talk with you and your family about all of your needs. Home Care Matters is a home care agency providing quality and affordable senior care services in Lawrenceville, GA and the surrounding areas. Call (678) 828-2195 for more information.
Source
https://www.longtermcarelink.net/article-2013-11-11.htm
Latest posts by superadmin
(see all)