Boosting Brain Health with Great Senior Care Strategies in Flowery Branch, GA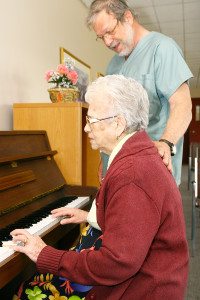 One of the biggest fears of growing older is memory loss. Studies have shown that by late middle age, the brain loses one percent of its cells every year. However, with the right combination of physical and mental activity, memory loss may be delayed or prevented. Senior care can be helpful in giving the brain a boost by applying the following strategies.
Reading regularly – It is so easy for people to plop down in front of the television and pass the time away. It doesn't require much brain stimulation. Reading on a regular basis is a great opportunity for active mental engagement as you make predictions throughout the story. Enhance memory by recalling details of what was previously read.

Board games

–

Not only are board games fun but they also promote social interaction and encourage critical or strategic thinking.

Crossword puzzles – Keep the mind active by playing a bit of trivia or solving for answers based on short clues.
Dancing – You may think of dancing as a physical activity but it can be a combination of both physical and mental activity. Taking a dance class or performing specific dances requires remembering all the steps involved and coordinating them to a rhythm.
Play a musical instrument or other hobby – Several areas of the brain are active when learning a new skill or hobby.
Memory training – There is a technique that allows participants to learn memory interventions which stimulate the brain's memory making abilities. The acronym MOVA

is an example of a memory intervention.
Meaningfulness
Organization
Visualization
Association
The idea behind this activity is that information is easier to remember when it is meaningful, organized, visualized, and associated with something familiar.
Although the process of boosting our brain health doesn't have to wait to start until we are older, senior care should encourage some form of brain boosting activity daily to help prevent cognitive decline.
Television, unfortunately, has become the main way that seniors entertain themselves on a daily basis. While some TV can be informative or beneficial, it is important to try other forms of stimulation as well.
These senior care strategies are a great way to boost brain health. Try to incorporate some of these activities on a daily basis. Remind your loved one that mental activity is the best way to prevent one of their biggest fears – memory loss.
The caregivers at Home Care Matters are available to talk with you and your family about all of your elder care needs. Home Care Matters is a home care agency providing quality and affordable senior care in Flowery Branch, GA and the surrounding areas. Call (678) 828-2195 for more information.
Latest posts by superadmin
(see all)