August 8th is International Cat Day
Elder Care in Buford GA
For elderly adults who are living at home, pets can bring so much joy.  Pets provide companionship, affection, and even stress relief for their human owners.  For this reason, many elderly adults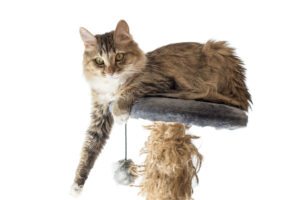 choose to have a pet.  For many, cats are a great choice since they require less care than dogs and they take up much less space.  In many cases, a cat can be easier for an elderly adult and their caregiver to take care of and they still provide all of the benefits that come with owning a pet.  August 8th is celebrated as International Cat Day so humans can thank and celebrate their cat companions.  If your elderly loved one is a proud cat owner, here are a few things they can do to celebrate their feline friend this International Cat Day:
Plant a Cat Garden
Cats love fresh herbs such as cat mint, catnip, and cat grass.  Just smelling these herbs and rolling in them can provide them with hours of entertainment.  Summer is a perfect time for your loved one to plant a cat garden for their cat and it can planted indoors or out.  If your loved one's cat goes outdoors, help them dedicate a small plot to cat plants and then watch their cat gravitate to that spot.  If their cat stays inside, these plants can be planted in a pot or tray near a window, or they can be picked and brought in from outdoors from time to time.
Help Your Loved One Build a Cat Structure
Cats love to climb, jump, and hide, but store-bought cat trees/kitty condos can be very pricey.  Fortunately, there are many ways you and your loved one can make a DIY cat structure that their cat will love.  Make use of shelving, cardboard, carpet scraps, and more to build a climbing structure for your loved one's cat.  Be sure to check out some online tutorials, too, if you need some guidance.
Check in With a Vet
Is your loved one's cat up to date on their vaccines and vet visits?  If it has been awhile since your loved one's cat has visited the vet, take some time to give the vet's office a call.  Find out if they are all up to date and, if they are not, assist your loved one with making an appointment and getting the cat in for a veterinary check-up.
The staff at Home Care Matters is available to talk with you and your family about all of your needs. Home Care Matters is a home care agency providing quality and affordable 

elder care in Buford, GA

and the surrounding areas. Call (678) 828-2195 for more information.
Latest posts by superadmin
(see all)