Preparing Family Visitors Ahead of Time about Your Parent's Alzheimer's Disease
Elderly Care in Duluth GA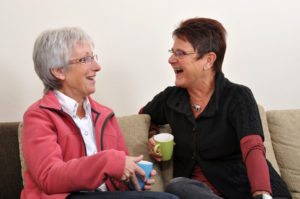 Even when seniors are dealing with Alzheimer's disease, spending time with their family is extremely meaningful. In fact, these visits can make a major difference in your parent's quality of life as they progress through the disease. Spending time with their family members can trigger memories, boost their mental and emotional health, and help to preserve their cognitive functioning. To get the most benefit out of these visits, however, it is important that you take the time to properly prepare your loved one for the reality of your parent's condition.
Though most people have an idea as to what Alzheimer's disease is, many have not come into direct contact with anyone dealing with the more noticeable stages. This can make the thought of spending time with a loved one who is showing symptoms of the disease rather daunting. Helping them to feel more prepared ahead of time can make these family members relax and be more confident.
Use these tips to help prepare family visitors ahead of time to visit with a parent with Alzheimer's disease:
Be honest. Do not try to hide or minimize the symptoms that your parent is facing. Be honest and upfront about them with the visitors so that they can be adequately prepared for the impact. It will be more shocking to them if you try to downplay what your loved one is going through and then they experience the full extent of its severity.
Be respectful. As much as you want to be honest and clear with the family about what to expect when spending time with your parent, you also want to show your loved one the proper respect. This means not using derogatory terms, not making fun of them, and ensuring that you protect their dignity in everything that you say. Consider if you think that your parent would be embarrassed if they heard what you said, or if you would be embarrassed if someone said it about you. The way that you talk about your parent will make an impact in how others interact with and perceive them.
Be supportive. Even with all of the information that you give your family members, they may not feel properly prepared to actually interact with your loved one. Be supportive and offer recommendations and instructions. Get them through the first few minutes of their time with your senior and it is likely that they will simply fall into a comfortable pattern after that.
Elderly care can be a tremendously beneficial resource for an aging adult who is dealing with Alzheimer's disease, as well as their family caregiver. An elderly home care services provider can create a customized course of care and support designed to address your loved one's specific needs and challenges now and as they change. Not only does this help your parent to live a healthier, safer, and more comfortable quality of life at their current stage in the disease, but it also prepares them for further needs as they progress. As their caregiver this personalized approach can give you greater confidence that your aging parent can continue living a high quality of life and that you will be able to manage their needs effectively and efficiently.
The staff at Home Care Matters is available to talk with you and your family about all of your needs. Home Care Matters is a home care agency providing quality and affordable elderly care in Duluth, GA and the surrounding areas. Call (678) 828-2195 for more information.
Latest posts by superadmin
(see all)