Elderly Care Nutrition: Delicious and Surprising Ways to Use Greek Yogurt
Elderly Care in Oakwood GA
Yogurt is by no means a new innovation, or even a new item in the local grocery store. Most people remember eating yogurt as a snack or even a healthy dessert alternative when they were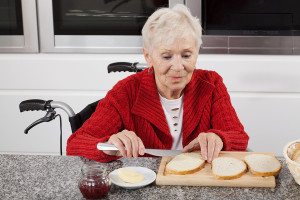 younger, and many continue to eat it today to get a boost of protein and calcium into their day. While regular yogurt may be something that you remember eating frequently in your younger years, there is a "new kid on the block" hanging around the dairy case these days that you may not be as familiar with. Greek yogurt has grown in popularity tremendously over the last several years, going from relative obscurity to taking over a large portion of every yogurt display. While this thicker, richer, creamier version of yogurt is just as ancient as its thinner counterparts, because it has not been popular for as long, you may not realize all of the incredible ways that you can make this tasty and versatile ingredient part of the nutritional approach in your elderly care journey with your aging parents.
Greek yogurt offers a wide variety of potential health benefits, including a big dose of protein, calcium, carbohydrates, and vitamins, all with far fewer calories and without the fat of classic yogurt. Spooning up a bowl with sliced fruit every morning for breakfast, however, can get boring quickly. Finding new and innovative ways to integrate Greek yogurt into your cooking routine can help you to give your loved ones the benefits of this delicious ingredient without them getting bored or feeling like they are having Greek yogurt overload.
Try some of these tasty ideas, and share them with your parents' elderly health care services provider, for surprising ways to integrate Greek yogurt into your parents' nutritional routine:
• Yogurt cheese. Do your parents love cream cheese but wish it was better for them? Transform Greek yogurt into a tangy, satisfying version that will give them all of that creamy mouthfeel with far better nutrition. Drape three layers of cheesecloth over a large bowl and spoon a container of plain Greek yogurt into it. The yogurt should not touch the bottom of the bowl and the cheesecloth should not slip into it. Put the bowl into the refrigerator overnight and the next day come back to a thick, creamy cheese they can use on their bagels or in their favorite cheesecake recipe. Try mixing in chopped herbs or bits of fruit to change up the flavor.
• Yogurt pastry. You may never be able to convince your parents' doctor that a big slice of pie after dinner is healthy, but you can make a case for making it a little healthier by integrating Greek yogurt into your pastry dough. While making your favorite pie crust recipe, omit the cold water. Instead, add 1/2 cup to 1 cup of Greek yogurt and mix it in. Use plain for savory applications such as potpies, and vanilla for sweet applications. The result is a rich, flaky, tender crust with some extra protein and calcium for good measure.
• Yogurt cubes. Keep your morning juice cold without watering it down by throwing in a couple of chilled yogurt cubes. Simply prepare a package of gelatin in your favorite flavor and then stir in 1 cup of Greek yogurt until it is a consistent color. Pour the mixture into silicone ice trays and put into the freezer. These little cubes keep drinks cold until you are ready to eat the cube, but they are also a fantastic shortcut for making fruity protein-packed breakfast smoothies or to eat as a healthy alternative to decadent desserts. Be extremely cautious with these if your parents have any difficulty swallowing.
The staff at Home Care Matters is available to talk with you and your family about all of your needs. Home Care Matters is a home care agency providing quality and affordable elderly care services in Oakwood, GA and the surrounding areas. Call (678) 828-2195 for more information.
Latest posts by superadmin
(see all)