July 15th is National Pet Fire Safety Day
Home Care in Lawrenceville GA
If your elderly loved one lives at home, pets can be great companions.  A beloved cat or dog can help your loved one to feel less lonely or isolated and they can even help your loved one to feel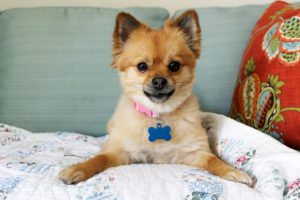 happier and more secure.  For these reasons, it is always important for you to help your loved one to take care of their pets.  Safe, healthy, and happy pets can be a true help to your loved one and bring joy to their days.  July 15th is National Pet Fire Safety Days, one of the many national observances we have dedicated to making sure pets and pet owners stay safe.  In the event of a fire, it is important for you and your loved one to know what to do to keep a pet safe.  In addition, it is important to be aware of the fact that pets can actually cause accidental fires in homes.  Knowing how to prevent these serious accidents may even save a life.  So, on July 15th consider reviewing some pet fire safety tips and the guidelines for preventing accidental fires caused by pets.  Here are a few tips to keep in mind to get started:
Use Flameless Candles
Dogs and cats can be curious around candles and even mistake them for a plaything.  If a pet tips over a candle or knocks it on the floor, a house fire can start quickly.  To avoid this hazard, consider using flameless candles instead of traditional candles.
Remove Stove Knobs
Many accidental fires are started by dogs who are tall enough to reach stove knobs.  When they sniff around the countertop or stove, they can accidentally turn on the stove which can lead to a house fire.  When the dog is not being supervised or when the dog is home alone, be sure to remove the stove knobs to prevent an accidental fire.
Use a Window Sticker
A great way for your loved one to alert firefighters that there is a pet in the house is by placing a sticker on a prominent window that indicates how many and what type of pet is in the house.  This will signal firefighters to search for the pet in the event of a fire.
Keep Collars on Pets
If there is a fire, a firefighter can more easily lead a pet with a collar on to safety as opposed to a pet without a collar.
The staff at Home Care Matters is available to talk with you and your family about all of your needs. Home Care Matters is a home care agency providing quality and affordable 

home care in Lawrenceville, GA

and the surrounding areas. Call (678) 828-2195 for more information.
Source: http://dogtime.com/how-to/pet-safety/18041-fire-prevention-and-safety-tips-for-your-pets
Latest posts by superadmin
(see all)